Highlighting the path to economic recovery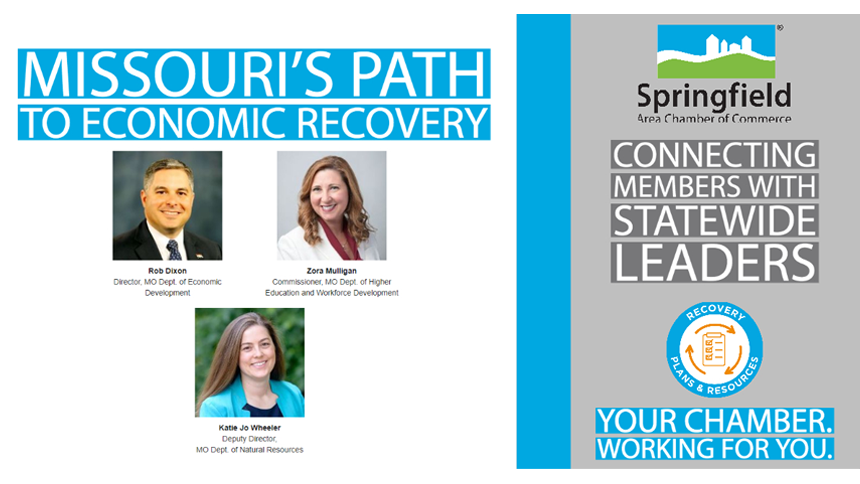 State leaders highlighted Missouri's current economic recovery efforts and potential positive workforce signs for the state during a conference call with Chamber members on June 24.
Director of Missouri Dept. of Economic Development (DED) Rob Dixon, Commissioner of Higher Education and Workforce Development (DHEWD) Zora Mulligan, and Deputy Director of Missouri Dept. of Natural Resources (DNR) Katie Jo Wheeler overviewed the state's efforts to navigate the coronavirus pandemic.
Overall, Dixon said the state is "taking the public health response and economic recovery efforts as two sides of the same coin." He said the state's overall success will be dependent on progress in both of those categories, and he outlined the four themes his department is focusing on to create economic success: eliminating barriers for businesses to make it easier and less expensive to reopen and stay open, helping communities through local government and non-profit assistance, providing assistance for individuals, and infrastructure investment to assist with economic growth and recovery.
Many industries have been significantly impacted by the pandemic, as evidenced by high unemployment rates. However, Missouri's unemployment rate remains below the nation overall, just as it was before the coronavirus pandemic – a fact Mulligan attributed to the state's highly diversified economy. Missouri's economic diversity allows the state to address high pockets of unemployment in specific ways.
Even with the widespread impacts of the pandemic, Dixon said there are broad signs of economic recovery across the state. One sign is the May job numbers, which show that some of the hardest-hit industries, like leisure, hospitality and tourism, are seeing more people returning to work.
Wheeler talked about the DNR's recovery efforts, including providing funding opportunities, increasing broadband connectivity, and investing in critical infrastructure like airports and bridges. Transportation investment was already insufficient pre-COVID, Wheeler added, and the large funding gaps that existed before have only been exacerbated by the pandemic.
Mulligan highlighted the state's Shared Work Program, which helps employers sustain employees, provide flexible scheduling and retain benefits, and reduces the unemployment hit on the state. She also highlighted the flexibility of higher education institutions during this time and commended their efforts and resiliency in adapting to this pandemic.
She also mentioned her department's Return Strong plan, which provides job training dollars and assistance to help unemployed individuals adapt and reskill during this crisis and return to the workforce with enhanced skills.
Dixon highlighted a program his department plans to roll out soon that will provide assistance for businesses that have pivoted or plan to pivot to manufacturing Personal Protective Equipment (PPE), as Governor Parson has prioritized sourcing PPE from local companies.
Dixon also encouraged visiting the Show Me Strong Recovery Plan website to find information and resources for businesses that want to test their employees and customers, and dissuaded any stigma around employers offering testing.
Ultimately, the key to a successful economic recovery for our state is similar to the state's focus before the pandemic: workforce development.
Programs like Fast Track and Missouri One Start are more important than ever in order to provide training to individuals and recover from the tremendous hit Missouri's economy has seen from the coronavirus. Although the budget for the upcoming year is uncertain, Mulligan is "cautiously optimistic" programs like these will have allocated funding to provide critical training to workers across the state.
COVID-19 has impacted and continues to affect every area of life. But these Missouri leaders still see great opportunities for growth and innovation, including recent and upcoming business expansion announcements and the ability to further implement cross-collaboration between state agencies and explore more efficient processes.
If you missed the event, an audio recording of this call has been posted on our coronavirus resource center.