To support a thriving economy, the Chamber works to grow jobs, workforce, and investment in the Springfield region. Businesses and residents alike benefit from economic growth, which is why our economic development team works to spur investment and job creation from both existing employers and those considering expansion into our community.  
Our efforts support the Springfield region's existing businesses through a structured business retention and expansion (BRE) program. The goal of BRE is to understand and address the needs and challenges faced by businesses to help them grow and contribute to a healthy regional economy. Our staff team provides companies with a central point of contact for a variety of business assistance resources and partnership connections.
To attract new investment and job creation, the Chamber serves as the first point of contact for businesses considering relocation or expansion. Within the Springfield/Greene County area, Chamber staff work with peers at the City of Springfield, City Utilities, and Greene County as part of Springfield's Partnership for Economic Development. Within the 10-county region, Chamber staff work with cities, counties, local chambers of commerce, and utility providers as part of the Springfield Regional Economic Partnership (SREP). Marketed externally, SREP highlights unique assets and business advantages of the Springfield region, aimed at attracting new investment to southwest Missouri.
Fostering a strong and skilled workforce is key to economic development success. The Chamber's efforts center around growing a robust talent pipeline, from development to retention and attraction. Our staff team manages programs that connect high school students and teachers with career information, encourage college students to consider staying in the Springfield area, help engage and retain young professionals aged 21-40, and attract new talent through a comprehensive relocation website. These programs, in combination with the Chamber's advocacy efforts around education and training, work together to enhance the skills, knowledge, and abilities of a growing population to meet the current and future needs of our community.
Business assistance, attraction, and workforce efforts for the Springfield region are informed by current economic trends and data. The Chamber's economic development team provides businesses and community leaders with the research and data they need to make informed decisions through annual industry and economic forecasting events, demographic publications, and online resources.
SBDC Events
Each year, the SBDC hosts an Annual Meeting, Health Care Outlook, Economic Outlook, and Manufacturing Outlook to keep investors and the business community at large apprised of current activity and trends. Visit the Chamber's Economic Development News page for recaps of recent events, and the online calendar for information about upcoming events. 
SBDC
Since 1985, the Chamber's economic and workforce development efforts have been carried out through the Springfield Business Development Corporation (SBDC), governed by a separate board of directors, and financially supported by more than 100 investors. As the economic development arm of the Chamber, the SBDC works with local and regional partners to market the Springfield region nationally to attract new business and talent, and to help local and growing companies succeed.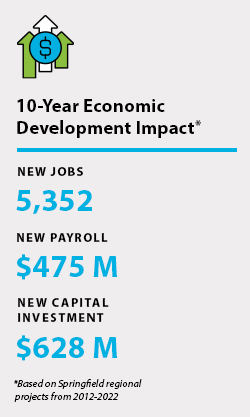 Investing in economic development through the SBDC helps create a positive return for the entire community, its businesses, and its residents. More than 100 public and private organizations invest above and beyond their Chamber membership to support economic and workforce development efforts, making our work possible.