What's the Advantage of an Annual Pass?
Receive a discounted rate and the convenience of a one-time charge
With an annual pass, there is no need for advance registration every month
When you can't attend, give your pass to someone else within your company
Click an image below or call (417) 862-5567 to purchase an Annual Pass today!
Good Morning, Springfield!
7:30-8:30 a.m. (breakfast provided)
Our monthly networking breakfast features current topics and timely updates from the City of Springfield, Greene County, Springfield Public Schools and the Chamber. Find out what's going on in your city and the region, usually on the first Thursday of every month.
Business After Hours
4:30-6:30 p.m.
Join the fun of casual conversation with fellow Chamber members. Great food and door prizes await while you connect with other business leaders and make new contacts, usually on the second Thursday of the month.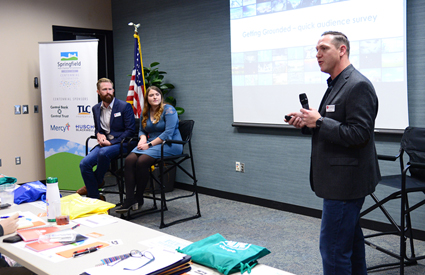 60 Minutes to Success Business Workshops
11:45 a.m.-1 p.m. (lunch provided)
One annual pass will get you admission to 10 lunch-and-learn events. The 60 Minutes to Success events are all about finding the right expertise for your small business, while the Expert Edge events offer presentations from local companies about the topics they know best.