Small Business Spotlight – December 2022: Vital Farms
Company name: Vital Farms
Person in charge: CEO, Russell Diez-Canseco
Year founded: 2007
Tell us about the history of your business:
Vital Farms began with a husband and wife, an Austin pasture with 20 Rhode Island Reds, and a commitment to animal welfare. As we grew, we didn't make our farm bigger – we found more like-minded farmers who put the welfare of their feathered friends first. Today, we work with over 300 small family farms across the pasture-belt that give hens (who we affectionally called "the girls") the outdoor lifestyle they deserve.
Describe the services your organization provides and what makes you unique:
Vital Farms is a Certified B Corporation that offers a range of ethically produced foods nationwide, including eggs and butter. All Vital Farms eggs are pasture-raised, meaning our hens enjoy at least 108 square feet of pasture each with plenty of fresh air and sunshine year-round, and our butter is churned by multi-generational farmers who share our passion for animal welfare and sustainable farming practices.
A unique approach we take at Vital Farms is practicing Conscious Capitalism, which prioritizes the long-term benefits to each of our stakeholders. We believe prioritizing our stakeholders' long-term sustainability and success produces strong outcomes for everyone over time.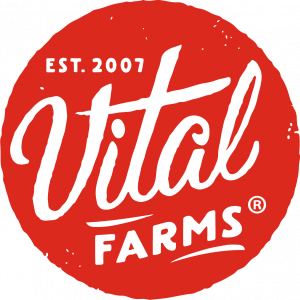 Tell us something people might not know about your organization:
Our Traceability product feature allows anyone to see 360° video footage of the family farm on which their eggs were laid. We launched Traceability in January 2020 and people may not know that we have received over 600,000 views to date, demonstrating that people are interested in being connected to the source of their food.
What is the biggest challenge facing your organization now, and how are you working to overcome that challenge?
Like many other manufactures across the country, a challenge we have is being able to fill some of our open roles. As a company we have done a great job sustaining some incredible growth rates for the last several years, so we are always looking to continue growing our team! While we are not a perfect company, we feel strongly about creating a great culture and our continued investment in that culture has allowed us to be pretty successful in increasing headcount to support our growth.
What is the best business advice you've ever been given?
I've been really blessed with some fantastic bosses/mentors throughout my business career so its hard to pick one single best piece of advice. With that said I think there are two overarching themes that have served me well. First, you're only as good as the team around you. The team at ECS truly is world class and I'm so proud of the work that team has accomplished! Second, challenge the status quo. I try to always be on the lookout for ways to improve processes/systems and remove waste. Often times that waste isn't physical but its pain points in our daily work that hold us back from being even more successful than we thought possible.