Endorsed Springfield City Council Candidates – April 2021
Multiple seats for Springfield City Council will be up for election on April 6, 2021, and there are several candidates running for each seat.
The Springfield Good Government Committee, a partnership between the Springfield Area Chamber of Commerce and the Home Builders Association of Greater Springfield, has endorsed these candidates for Springfield City Council in the upcoming election.
As a reminder, the Springfield Good Government Committee partnership has been in place since 2010 and has its own board and finances, separate from the Chamber. It is the Committee, not the Chamber, that makes contributions to candidates; no funds of the Chamber or SBDC are contributed to candidate committees. Most contributions to Springfield Good Government Committee come from small businesses. Over the past two years, for example, the Committee has received more than 700 contributions and more than 75% of those were $100 or less, primarily from local small businesses.
Candidates were endorsed following a rigorous interview and survey process about their views on a wide range of issues affecting business and the community.
Read more about the candidates below - and be sure to vote on Tuesday, April 6!
Ken McClure – Mayor (Incumbent)
Also endorsed by Southern Missouri Professional Firefighters, Springfield Police Officers Association and Greater Springfield Board of Realtors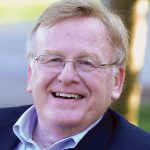 Elected mayor in 2017 with more than 68 percent of the vote, Ken McClure has led council to move forward on top priorities including economic vitality, public safety and fiscal sustainability. With the 2017 Level Property Tax renewal, Springfield is addressing long-term public safety infrastructure needs, such as new fire stations and lifecycle replacement of police vehicles, in a sustainable way. Under his leadership, the city has made progress on catalytic projects such as the IDEA Commons development, the Grant Avenue Parkway and the City's comprehensive planning effort. McClure's collaborative leadership throughout the pandemic helped balance the public and economic health of the community, positioning Springfield for a strong economic recovery. He received the 2020 Government Excellence Award from Missouri State University for strong leadership amidst the COVID-19 pandemic and community development projects. His professional background includes leadership positions at Missouri State University, City Utilities, the Missouri Public Service Commission and as chief of staff for Gov. Matt Blunt.
---
Matt Simpson – Zone 4 (Incumbent)
Also endorsed by Southern Missouri Professional Firefighters, Springfield Police Officers Association and Greater Springfield Board of Realtors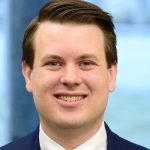 Matt Simpson was appointed in March of 2018 to serve the residents of Zone 4 and was selected by voters in 2019 to complete that term. Simpson currently serves on Council's Public Involvement Committee and the Finance and Administration Committee. Having started and sold a local small business, Simpson also brings entrepreneurial experience to Council. He has an impressive history of involvement in civic organizations including the Springfield-Greene County Library Board of Trustees. He is a past-chairman of the Foundation for Springfield Public Schools board of directors. Matt serves as Chief Research and Governmental Affairs Officer for Ozarks Technical Community College, where he utilizes extensive data analysis to assist OTC in setting future strategic direction – skills that are beneficial to Council. He is a member of the Network for Springfield's Young Professionals, and an advocate for all things Springfield.
---
Heather Hardinger – General Seat A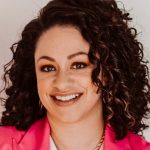 Also endorsed by Greater Springfield Board of Realtors
Heather Hardinger is a workforce and economic development consultant for a national firm focused on adult educational and career achievement. She spent the last five years as a workforce strategist for Taney County Partnership at the Branson/Lakes Area Chamber of Commerce where she specialized in implementing workforce development and talent attraction strategy, advocated for the development of affordable workforce housing, and served as a community advisor on equity, diversity, and inclusive workplace policies. Heather also has experience developing talent pipelines to the Springfield regional area for major employers through higher education partnerships in mainland U.S., Puerto Rico, and around the globe. She was appointed to chair the Mayor's Commission on Human Rights and Community Relations in 2017, and was appointed by Missouri Governor Mike Parson to the state Census 2020 Complete Count Committee and has served on the Leadership Council for the Chamber's Network for Young Professionals since 2020. In 2019, she completed a U.S. Chamber of Commerce Foundation fellowship program focused on workforce development and closing the skills gap.
---
Brent Brown – General Seat B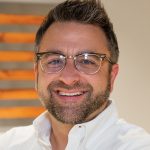 Also endorsed by Greater Springfield Board of Realtors
Brent Brown is a native of Springfield and has spent more than a decade doubling the size of his family's retail grocery business. Prior to selling the company in 2012, Brent had been promoted to president/CEO and had grown the business to 12 locations in Missouri and Kansas and almost 500 employees. Brent founded Greenway Development Group and has built over 700 units in multifamily and mixed-use developments in and around Springfield. Brent also founded the property management company, Entrust Property Solutions, in 2016. In the last several years, he has developed or acquired additional assets to include multifamily, mixed-use, office and retail properties. Brent is a graduate of Leadership Springfield Class 22 and has served in many volunteer roles including the Board of Directors for the Ozark Empire Grocers Association, Literacy Council of the Ozarks, K-Life Ministries (Board President), the Greater Springfield Apartment & Housing Association, and currently serves on the board of Legacy Bank & Trust.
Paid for by Springfield Area Chamber of Commerce • Matt Morrow, President – PO Box 1687, Springfield MO 65801