Community Leadership Visit 2021 – Springfield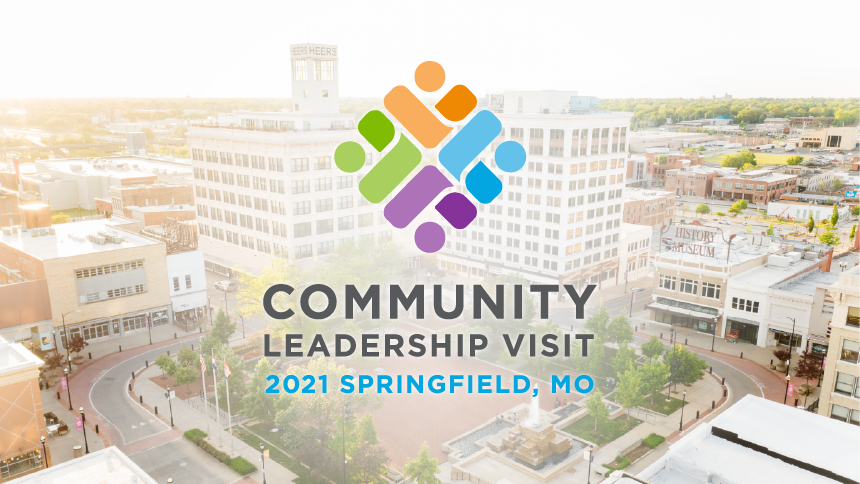 In 2021, we are making our 27th Community Leadership Visit. Past trips have been successful catalysts for some of the Springfield region's most exciting community and economic development projects.
This year's program will, of course, be different than most in that we are "visiting" our own community. While we won't be leaving Springfield, this year's CLV provides an opportunity to reflect on our strengths and progress in recent years, as well as to take a fresh look at the issues we continue to face as a community.
Community Immersion Activities
James River Kayaking
Lake Springfield Stand-Up Paddle Boarding
Beginner Mountain Biking
Greenway Bike Ride
Guided Beginner Hike
Greenway Walk
Beginner Yoga in the Park
Wonders of Wildlife National Museum & Aquarium
History Museum on the Square
Time On Your Own
Hotel & Venue Information
Thank You to Our Sponsors!
Grooms Office Environments
Mercy Hospital Springfield Communities
Pinnacle Sign
Sapp Design Architects
Snyder Construction Group
Ameriprise Financial
Amprod Holdings, LLC
Bryan Properties
Central Bank/Central Trust Company
City Utilities
Cochran Engineering
Community Foundation of the Ozarks
Convoy of Hope
CoxHealth
Guaranty Bank
JVIC/The efactory at Missouri State University
nForm Architecture
Old Missouri Bank
Ollis / Akers / Arney Insurance & Business Advisors
Ozarks Technical Community College
Paragon Architecture
Show Me Christian County
Springfield Art Museum
Springfield-Branson National Airport
Springfield-Greene County Health Department