Community leader shares career advices with young professionals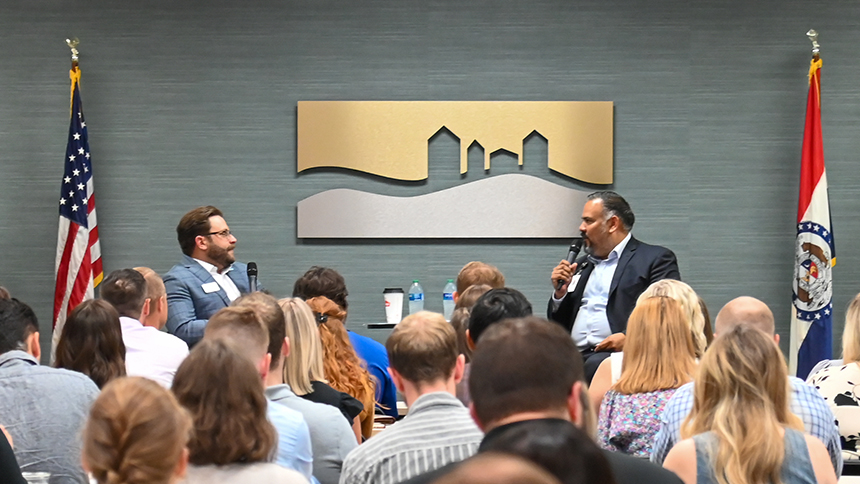 On August 24, The Network for Springfield's Young Professionals hosted the third event in its 2023 CEO series. YPs heard from David Argueta, community president of Mercy Springfield Communities.
Throughout the event, David discussed why his family chose to come to Springfield, his work in healthcare and offered YPs some career advice.
First impressions can go a long way, and David's first impression of Springfield was certainly an encouraging one. From the moment David arrived at the airport, he enjoyed the unique attributes of our region and more importantly, the community of people here. The willingness to work together as a community impressed upon David that Springfield was the right place for his family to be.
While David has only been in Springfield for about a year, he brings over 19 years of healthcare leadership experience with him. Discussing his day-to-day work and his goals for healthcare in Springfield, David expressed that no one day is like another. While working with his team at Mercy to improve micro and macro areas of healthcare, there is always something new to address. One area David is particularly passionate about is providing comprehensive care for mental health and eliminating the stigma that surrounds it.
When discussing advice for leaders and YPs, David encouraged the audience to have unreasonable expectations for the things that matter most. He also expressed the importance of a team-first mentality and reminded YPs to be humble and serve others.
Lastly, David offered his younger self some advice that applies to all YPs. He said, "Remember to believe in yourself and give yourself grace."