Attorney General Andrew Bailey discusses new role as the State's chief legal official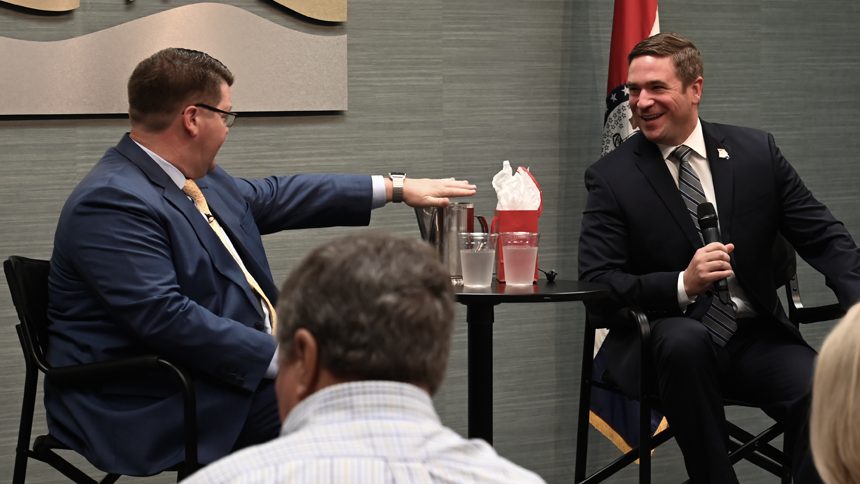 Attorney General Andrew Bailey joined Chamber members on July 6 for a conversation about his new role as the state's chief legal official and lessons learned throughout his professional career. This event was the second installment of the 2023 Public Policy Speaker Series.
Bailey started his career as a public servant following the September 11 terrorist attacks on the United State as an officer in the Army, and served two tours in Iraq as an Armored Cavalry Officer. Following his time in the military, Bailey became a prosecutor to fight violent crime and protect Missouri communities. He was sworn in as the 44th Attorney General of the State of Missouri in January 2023, after serving as Deputy Counsel and then General Counsel for the Missouri governor's Office.
Reflecting on his first couple of months as Attorney General, Bailey shared how his time working in the Governor's Office has shaped his perspective.
"Working under Governor Parson, especially during such critical moments in the state's history, really educated me about state government," he shared. " I learned more about where resources are located, how state government operates, and how to effectively respond to issues, and that has really helped me in the Attorney General's office as the seventeen constitutionally mandated state agencies are our client base."
Bailey also shared some of his proudest accomplishments and continued priorities since being sworn into the role in January.
"We aim to do as much regional outreach as we can," he explained. "One thing we've been working on is resetting our relationship with the criminal justice system."
In addition to the community outreach, the Attorney General's Office is continuing to prioritize crime reduction and public safety across the state.
"One of the biggest issues that I came into the office wanting to tackle is crime and safety," Bailey explained. "When our Department of Economic Development tries to entice other businesses to move to Missouri, there's currently a perception problem."
Bailey explained he and his team's focus on "training a new generation of service-minded attorneys." He shared the variety of partnerships and programs his office engages in that allow his staff to recruit and retain strong legal professionals, while also creating a pipeline of career opportunities across the state.
"Having staff sufficient to manage our operations and meet the needs of the state of Missouri is critical," Bailey said. "I want to train people who want that experience."
Thank you to our presenting sponsor Hahn | DeBoef Government Relations and our seasonal Gold Sponsor Greater Springfield Board of Realtors.