Joe Carmichael receives 2023 Springfieldian Award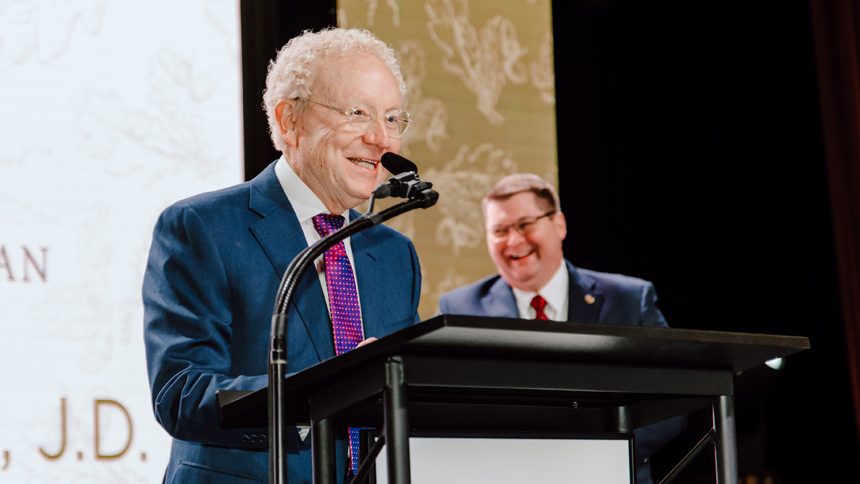 A dedication to his community and an optimistic outlook on life are among the defining characteristics of Lloyd Joseph "Joe" Carmichael. Those qualities, along with a lifetime of service and achievements, were celebrated on January 27 as the Springfield Area Chamber of Commerce presented Carmichael with the 2023 Springfieldian Award.
The announcement was the culmination of the Chamber's annual meeting at the Oasis Hotel & Convention Center. The Springfieldian is the Chamber's most coveted honor, given each year to an individual who exemplifies outstanding community service, excellence in his or her field and dedication to improving the quality of life for Springfield and its citizens.
"Joe Carmichael has been involved in so many things in our community for decades," said U.S. Senator Roy Blunt in a video tribute to Carmichael shared at the annual meeting. "He's curious, analytical, and he's a real problem solver. There are all kinds of places in Springfield where you can see how those traits have really helped Joe make a difference."
A Springfield native and Parkview High School graduate, Carmichael attended what is now Missouri State University (MSU) – an institution with which he enjoys a lifelong connection. He earned his bachelor's degree in business and French before attending law school at the University of Arkansas. In Arkansas, he met Marie, his wife of almost 50 years. Together they have two children, Dr. Joseph Carmichael and Dr. Kathryn Carmichael.
Joe's connection with MSU continues today, most recently serving as chairman of the MSU Foundation's Board of Trustees. Before that, he was a board member and past chair of the MSU Board of Governors.
In addition, Carmichael has served on numerous boards and commissions at the local, state and national levels including Legal Aid of Southwest Missouri, vice chair of the Democratic National Committee, commissioner and chairman of Missouri Highways and Transportation Commission, Missouri State Employees' Retirement System Board of Trustees, and the City of Springfield Airport Board.
"Joe Carmichael is one of the most respected people that I know," said Springfield-Branson National Airport director of aviation Brian Weiler in the video tribute to Carmichael. "He asks the hard questions. He is very much a part of getting things done behind the scenes. Joe's primary focus is to get to the best solution for our community."
Carmichael, also a certified public accountant, has served in the field of law for over 40 years. Throughout his career, Joe has also been active in professional organizations including the Springfield Metropolitan Bar Association, the Missouri Bar Association, the American Bar Association, and the Southwest Chapter of the Missouri Society of Certified Public Accountants.
Currently, Joe serves as the president and law firm manager of Carmichael & Neal, P.C. He also helps his wife with her real estate development company, Affordable Homes Development, Inc.
To learn more about this year's Springfieldian, check out the video below!
Special thanks to our Springfieldian Video Production Sponsor, Ozarks Public Broadcasting.