Summarizing years of progress in the Springfield region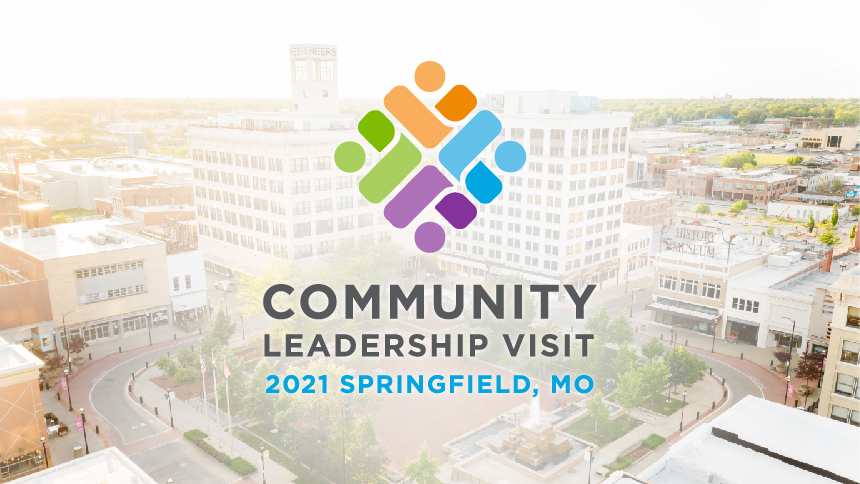 Since 1994, the Chamber has convened community leaders from the public, private and non-profit sectors for the Community Leadership Visit. The delegation of leaders travels to a peer city to learn from their experiences and bring back ideas that will benefit our region.
The 2021 CLV initiative took a different approach. Nearly 90 participants "visited" Springfield, spending more than two days traveling to various locations around the region, evaluating how the community has grown and made progress in the last 10 to 20 years, as well as where challenges and opportunities remain.
Participants heard panel discussions from community and business leaders on a wide range of topics, including:
The city's major recent wins
Quality of place improvement efforts and long-range planning
Workforce development challenges and collaborative approaches in the works
Regional development and growth
Embracing our identity as an outdoor destination
Innovation in the arts and entrepreneurship
The exploding local food and beverage scene
How we have addressed barriers in the community, and what work remains
The work done over the two and half days was significant, because Springfield is at a major crossroads. The city and the region have made major advances in the last 10-20 years in economic development, education, the arts and the outdoors and more. The city is also planning for its long-term future and collecting citizen input on where investment should be made.
But there are also questions to address. How does our community address the workforce shortage to meet employer needs and give individuals access to better jobs? How do we better define and leverage our regional identity? How can we continue our efforts to be a more inclusive, welcoming community?
"We get so wrapped up in our day-to-day that we don't realize how incremental improvements are turning Springfield into a vibrant, welcoming community," said 2021 Chamber Board Chair Logan Aguirre. "We have had major and transformative progress, and that is worth celebrating."
We invite you to read the full report about what participants learned during the 2021 Community Leadership Visit.
---
Thank you to the Presenting Sponsor for the 2021 Community Leadership Visit, BKD CPAs & Advisors, as well as the sponsor of the 2021 post-trip report, the Springfield Art Museum!