Announcing the recipients of 2022 ATHENA, Virginia Fry Rising Star Awards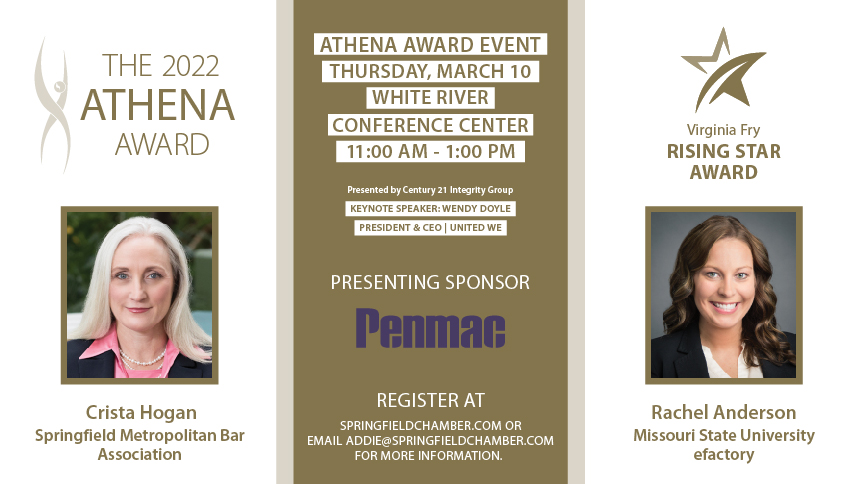 Two leaders in the Springfield community will be honored at the Springfield Area Chamber of Commerce's 2022 ATHENA Award ceremony on March 10.
Crista Hogan has been selected as the recipient of the 2022 ATHENA Award. She has served as executive director of the Springfield Metropolitan Bar Association since 2001. She also serves as executive director of the Springfield Metropolitan Bar Foundation, which addresses community needs for access to justice and public understanding of the legal system.
Crista currently serves on boards and commissions including the ABA Standing Committee on Public Education, the Missouri Public Defender Commission, the National Association of Bar Executives, and the Missouri Supreme Court Commission on Racial and Ethnic Fairness. She is a past president of Junior League of Springfield and received its 2021 Lifetime Achievement Award. She is a past board member of Ozarks Literacy Council, Habitat for Humanity, NAMI of Southwest Missouri, The Kitchen Foundation, Ozark Greenways, and Lost and Found, and she has served on numerous Chamber committees including the Governmental Affairs Committee, Legislative Policy Committee and Local Issues Public Policy Task Force.
The ATHENA award honors exceptional professionals and leaders, inspiring others to achieve excellence in their professional and personal lives. Recipients have not only attained professional excellence and served the community, but also those who have actively assisted women in their achievement of professional excellence and leadership skills. They also will have contributed their time and energy to improving quality of life for others in the community.
Rachel Anderson has been selected as the recipient of the Virginia Fry Rising Star Award, which is named after the late Virginia Fry, a pioneer in the legal profession and a beacon in the Springfield community. This award honors an emerging leader and mentor in their chosen profession and in the community - someone age 40 or younger who is already beginning to light the way for women leaders.
Rachel has over 15 years of leadership and management experience. She currently serves as director of the efactory, an innovation, entrepreneurship and business resource center at Missouri State University. She's the cofounder of Rosie, an organization that supports, assists and advocates for current and prospective female founders, business owners and leaders in the Springfield area.
Rachel is an Advisory Board Member for the Entrepreneurship Strand of GO CAPS and part of the founding core group of NEXT Missouri, a statewide entrepreneurship and innovation advocacy coalition. She has been recognized by Biz 417 as "10 for the next 10" and the Springfield Business Journal's "12 People You Should Know."
Both recipients were nominated by the public and selected from among dozens of nominees by an independent panel of judges.
"Once again this year, our judges had a difficult decision from a very strong pool of nominees, and it's clear that they've made excellent choices," said Chamber President Matt Morrow. "These two community leaders are exceptional examples of the qualities embodied by these awards, and we're thrilled to be able to honor them on March 10."
The award ceremonies will take place during a midday event at the White River Conference Center. The keynote speaker for the event will be Wendy Doyle, president & CEO of United WE, an organization that works to tackle barriers to women's economic growth and unlock women's economic potential through research, policy solutions and civic engagement. Wendy is a fierce advocate for women's economic and civic advancement, and her work has garnered numerous recognitions including a place in the Missouri Public Affairs Hall of Fame.
Visit our web calendar for more about the event or to register.