Reopening & Recovery Resources
Updated Friday, May 29, 4 p.m.
The Springfield Area Chamber of Commerce is committed to providing a safe working environment for employees and members, and to minimizing the potential economic and business impact of COVID-19 (the "Novel Coronavirus") for our Chamber members.
To that end, we want to hear about how your organization is being affected by this situation, so that we can connect you with resources that can offer you assistance and share your concerns with legislators who might be able to help.
City of Springfield Announces Phase Two Reopening Plans
Updated Friday, May 29
The city of Springfield and the Springfield-Greene County Health Department announced details on May 20 about Phase Two of the gradual reopening of our local economy.
The second phase of reopening takes effect on Saturday, May 23, and is part an ongoing effort to balance safety considerations of employees and customers with economic hardships. They allow businesses to reopen while adhering to social distancing requirements and occupancy restrictions based on the square footage of their business; personal care businesses will have additional restrictions to protect personal safety. Limits also remain in place on the numbers allowed to gather in groups, with social distancing requirements remaining for those gatherings as well.
Click here to read more from the City of Springfield about reopening plans.
Click here for a FAQ document from the city.
City of Springfield Road to Recovery Plan (chart) - updated May 22
City of Springfield Road to Recovery Plan (full presentation) - updated May 22
If you're unsure about the maximum occupancy calculation for your business, organization, activity or meeting, this chart from the City of Springfield offers a quick reference guide. You can also email us if you'd like additional assistance in interpreting the city guidelines and how they impact your organization.
Please note: If you continue to use the Phase 1 calculator previously downloaded from this website, remember that the formula automatically converts to multiply by .10 at 10,000 square feet and over. This formula does not apply to every category of business, industry and/or activity in Phase 2 or future phases. Please check the City's Road to Recovery document above for guidance on the specific formula that applies to your situation. The Chamber has provided the calculator tool for general guidance only and is not responsible for actions taken as a result of calculations made by the tool; you should always consult the City of Springfield if you are unsure about your individual situation. 
If you have specific questions about the order and how they could affect your business, you are encouraged to contact the City of Springfield by calling (417) 799-1570 or emailing essentialbusiness@springfieldmo.gov.
General Guidance for Returning to Work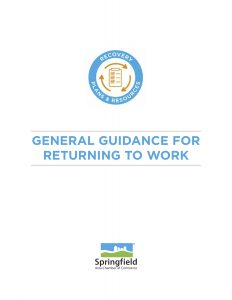 As our local economy prepares to reopen, businesses large and small have many considerations and concerns on how to do so safely and effectively. Supporting local businesses will be critical to the economic recovery of our community and state.
Reopening your doors likely won't look like returning to business as usual. We know there are questions for businesses of all sizes in all industries as you move forward – and, in many cases, alter your business operations.
Based on best practices and expert recommendations, the Springfield Area Chamber of Commerce is providing this guide with suggestions to assist members in efforts to open your doors and support and protect employees and customers as you navigate this changing landscape.
Missouri's "Show Me Strong" Recovery Plan
Updated Friday, May 29
Missouri Gov. Mike Parson has announced that Phase One of the state's reopening plan has been extended through June 15.
The process is a deliberate and data-driven plan to re-open the state's economy. The plan has two initial phases intended to protect those most at risk of exposure to COVID-19 while returning Missouri to a new normal. Additionally, the "Show Me Strong" recovery plan rests on four essential pillars:
Rapidly expand testing capacity and volume in the state, including testing for those who are currently contagious and those who have developed immunity to the virus
Expand reserves of PPE by opening public and private supply chains and continuing to utilize Missouri businesses in that effort
Continue to monitor and, if necessary, expand hospital and health care system capacity, including isolation and alternate care facilities for those that cannot self-quarantine at home
Improve ability to predict potential outbreaks using Missouri's public health data
Businesses and individuals are encouraged to continue taking safety precautions to limit the spread of COVID-19. The links below provide answers to common questions about the state's reopening plans.
Show Me Strong Recovery - Business Guidelines
Reopening Resources for Businesses
White House Guidelines for "Opening Up America Again"
The White House has unveiled Guidelines for Opening Up America Again, a three-phased approach based on the advice of public health experts. These steps are intended to help state and local officials when reopening their economies, getting people back to work, and continuing to protect American lives.
Save Small Business Initiative
The U.S. Chamber of Commerce is unveiling its Save Small Business Initiative, as an effort to help address the immediate needs of the small business community, mitigate closures and job losses, and mobilize support for long-term recovery in the wake of the economic destruction of the COVID-19 pandemic.

The initiative is a call to action for the larger business community and government to help small businesses. It also includes advocacy, resources, webinars and guides, and research.
The U.S. Chamber Foundation is also working to support the effort by launching their Save Small Business Fund. Funded by contributions from corporate and philanthropic partners, the U.S. Chamber Foundation will be providing $5,000 supplemental grants to small employers in economically vulnerable communities.
Unfortunately, the Save Small Business Fund is not taking new applications due to the overwhelming response exceeding the fund's capacity. However, information is available on the fund's website. In addition, the U.S. Chamber has put together this Coronavirus Small Business Guide, updated daily with new resources for small businesses.