Reopening & Recovery Resources
Updated Friday, October 9, 3:00 p.m.
The Springfield Area Chamber of Commerce is committed to providing a safe working environment for employees and members, and to minimizing the potential economic and business impact of COVID-19 (the "Novel Coronavirus") for our Chamber members.
To that end, we want to hear about how your organization is being affected by this situation, so that we can connect you with resources that can offer you assistance and share your concerns with legislators who might be able to help.
Information about Greene County CARES Act Funding
Note:  Greene County small businesses that have experienced unexpected expenses or losses related to the pandemic, or anticipate incurring such costs, could be eligible for grant funding - but time to apply is running out. You must complete your application for Greene County CARES Act Relief Fund grant money by the end of business on September 30. Even if you received a Paycheck Protection Program loan, you may still be eligible. Read our Frequently Asked Questions document to learn more.
The goal of the CARES Act Relief Fund is to promote recovery by funding programs and services that support the needs of those impacted by the COVID-19 public health emergency. As part of this fund, Greene County has received $34 million to help support local coronavirus response efforts. These funds will be distributed back into our community for area expenses related to the virus and to help mitigate the impact of COVID-19.
The Greene County Commission has developed an organizational structure for payments focused on six areas: medical, public health, payroll, compliance with COVID-19 expenses, provisional support expenses, and other COVID-19 related expenses.
Visit the Greene County CARES Act online portal
Click here for the application
Visit the Greene County CARES Transparency Dashboard
If you missed our virtual event about the Greene County CARES Act funding for small businesses, you can watch the recording here!
COVID-19 Toolkit for Businesses & Workplaces
The COVID-19 Toolkit for Businesses & Workplaces was created by the Springfield-Greene County Health Department as a guide to help your business or organization create or enhance your COVID-19 prevention and response policy. The Health Department will identify and contact people who test positive for COVID-19 and close contacts to discuss the proper steps they need to take. However, due to the volume of cases and the process of disease reporting, these calls can be delayed by several days. Often, friends, family and employers are aware of a potential exposure before the Health Department.
For this reason, employers can help stop the spread of COVID-19 within their workplaces and the community by understanding Health Department guidelines in the case of a workplace exposure. The entire toolkit can be found here.
City of Springfield Announces Phase 3-A of Reopening
Updated Tuesday, October 6
The city of Springfield has extended the masking ordinance effective inside the city limits. Masking requirements will now be in effect through January 9, 2021. People inside the city limits over the age of 11 are required to wear a mask if they are in the part of a public facility that is open to the public. There are several exceptions, including:
People with health conditions
For outdoor activities if proper social distancing is maintained
For people communicating with the hearing impaired
While actively eating and drinking
Aside from the face covering requirement, the new ordinance is relatively unchanged from the Phase 3 reopening requirements. The city has set up several links with more information about the new ordinance.
Read the text of the newly extended masking ordinance
FAQs about the masking ordinance and Phase 3-A of reopening
If you have specific questions about the orders and how they could affect your business, you are encouraged to contact the City of Springfield by calling (417) 799-1570 or emailing essentialbusiness@springfieldmo.gov.
Please note: If you continue to use the Phase 1 calculator previously downloaded from this website, remember that the formula automatically converts to multiply by .10 at 10,000 square feet and over. This formula may not be applicable in this or future phases of the reopening plan. Please check the City's Road to Recovery document above for guidance on the specific formula that applies to your situation. The Chamber has provided the calculator tool for general guidance only and is not responsible for actions taken as a result of calculations made by the tool; you should always consult the City of Springfield if you are unsure about your individual situation. 
Missouri's "Show Me Strong" Recovery Plan
Updated Friday, July 17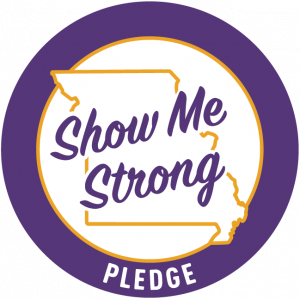 The state of Missouri is asking citizens and businesses to take the Show Me Strong Pledge. The pledge is a voluntary commitment to take a few simple steps that will aid in protecting the well-being of all Missourians.
Show your strength and take the pledge!
---
While there is no statewide health order, local officials have the authority to put further rules, regulations, or ordinances in place as necessary. The decision to reopen was dependent on the four essential "Show Me Strong Recovery" pillars:
Expand testing capacity and volume in the state
Expand reserves of PPE by opening public and private supply chains
Continue to monitor and, if necessary, expand hospital and health care system capacity
Improve ability to predict potential outbreaks using Missouri's public health data
The governor also announced that the State of Emergency will remain in effect through December 30, easing several regulatory burdens and allowing for utilization of funds through the CARES Act.
While Missouri will fully reopen on June 16, Governor Parson emphasized the importance of continuing social distancing and practicing proper hygiene to prevent the spread of COVID-19.
Read the Full Press Release about Phase 2
Statewide Economic Recovery Dashboard
General Guidance for Returning to Work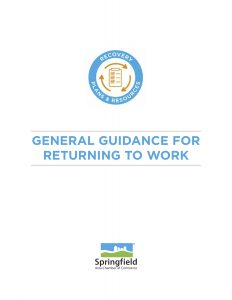 As our local economy prepares to reopen, businesses large and small have many considerations and concerns on how to do so safely and effectively. Supporting local businesses will be critical to the economic recovery of our community and state.
Reopening your doors likely won't look like returning to business as usual. We know there are questions for businesses of all sizes in all industries as you move forward – and, in many cases, alter your business operations.
Based on best practices and expert recommendations, the Springfield Area Chamber of Commerce is providing this guide with suggestions to assist members in efforts to open your doors and support and protect employees and customers as you navigate this changing landscape.
Reopening Resources for Businesses
White House Guidelines for "Opening Up America Again"
The White House has unveiled Guidelines for Opening Up America Again, a three-phased approach based on the advice of public health experts. These steps are intended to help state and local officials when reopening their economies, getting people back to work, and continuing to protect American lives.