Reopening & Recovery Resources
Updated Tuesday, June 8
The Springfield Area Chamber of Commerce is committed to providing a safe working environment for employees and members, and to minimizing the potential economic and business impact of COVID-19 (the "Novel Coronavirus") for our Chamber members.
To that end, we want to hear about how your organization is being affected by this situation, so that we can connect you with resources that can offer you assistance and share your concerns with legislators who might be able to help.
COVID-19 Toolkit for Businesses & Workplaces
The COVID-19 Toolkit for Businesses & Workplaces was created by the Springfield-Greene County Health Department as a guide to help your business or organization create or enhance your COVID-19 prevention and response policy. The Health Department will identify and contact people who test positive for COVID-19 and close contacts to discuss the proper steps they need to take. However, due to the volume of cases and the process of disease reporting, these calls can be delayed by several days. Often, friends, family and employers are aware of a potential exposure before the Health Department.
For this reason, employers can help stop the spread of COVID-19 within their workplaces and the community by understanding Health Department guidelines in the case of a workplace exposure. The entire toolkit can be found here.
City of Springfield Road to Recovery
Updated Tuesday, June 8
Springfield City Council has voted to remove all COVID-related masking and social distancing requirements for businesses and public spaces. Individuals who have yet to be vaccinated are still encouraged to follow CDC guidance regarding masking and social distancing in public.
Other communities in the region have either issued their own plans or announced that they are relying on orders from the state or basing their orders on those made by their local counties.
Missouri's "Show Me Strong" Recovery Plan
Updated Tuesday, June 8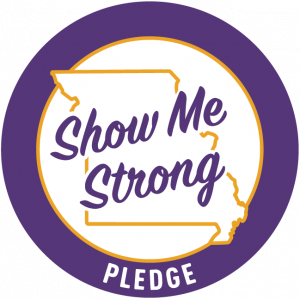 The state of Missouri currently has no COVID-19 restrictions in place.
Businesses can still implement basic safety measures informed by industry best practices, as well as procedures regarding vaccinated employees, customers and vendors.
Full business guidelines provided by the state can be found here.
General Guidance for Returning to Work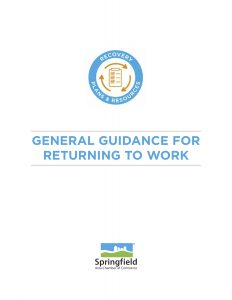 As our local economy prepares to reopen, businesses large and small have many considerations and concerns on how to do so safely and effectively. Supporting local businesses will be critical to the economic recovery of our community and state.
Reopening your doors likely won't look like returning to business as usual. We know there are questions for businesses of all sizes in all industries as you move forward – and, in many cases, alter your business operations.
Based on best practices and expert recommendations, the Springfield Area Chamber of Commerce is providing this guide with suggestions to assist members in efforts to open your doors and support and protect employees and customers as you navigate this changing landscape.
Reopening Resources for Businesses
The City of Springfield has created guidance for a variety of groups, from businesses to faith-based groups and childcare centers, on how to operate safely.
The Missouri Chamber of Commerce & Industry has released an updated Return to Work guide with information for businesses as the economy reopens. It features a wealth of information on numerous topics, including employee health considerations and information for fully vaccinated employees.