Business and education leaders highlight Fast Track as a "game-changing" workforce program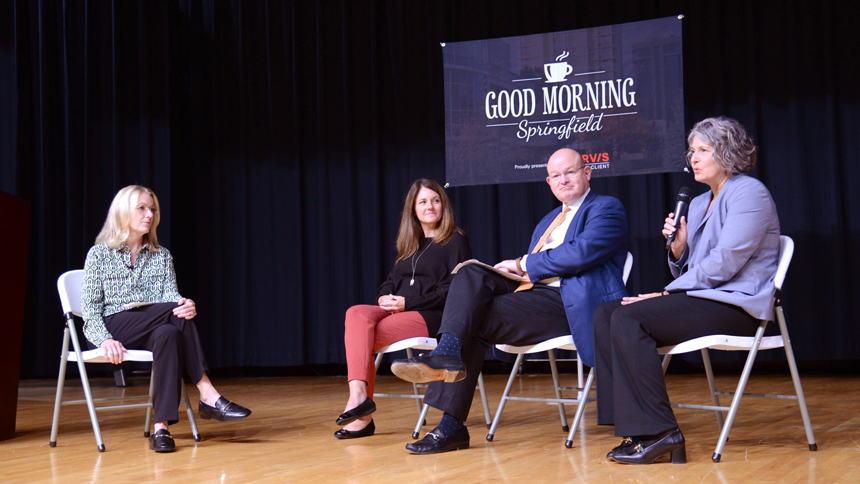 The September edition of Good Morning, Springfield! featured a deep dive into the Fast Track Workforce Incentive Grant, providing a chance to highlight this workforce grant program and one way for community and business leaders to address the number one challenge facing business growth – a trained workforce.
And if the panelists were to describe Fast Track with one word, it would confidently be "game-changing."
Originally created in 2019, this financial aid program helps adults pursue a certificate, degree or industry-recognized credential in a high-demand field by supporting tuition and fees not covered by other state and federal student aid programs.
Under the leadership of Governor Mike Parson, Senator Lincoln Hough, and workforce and higher education advocates, lawmakers extended the grant through 2029 during the 2022 legislative session.
Improvements to Fast Track were also passed, including changing the funding from a loan to a grant, expanding the pool of training providers, adding registered apprenticeship costs as eligible expenses, and the addition of a two-year residency requirement (U.S. Armed Forces and spouses exempt).
Dr. Beth Harville, Senior EVP and Provost at Drury University and the Chamber's Vice-Chair of Workforce Development, is no stranger to the Fast Track Workforce Grant. Her experience includes advocating for the reauthorization during the annual Board Advocacy Day in Jefferson City and seeing firsthand the benefits this program has to offer many non-traditional students.
"This program is a game-changer for the advancement of students and their families." Harville said.
Joining Dr. Harville were Krisi Schell, EVP of HR at SRC Holdings Corp. and Chamber Board member, Ozarks Technical Community College Chancellor and Chamber Board member Dr. Hal Higdon, and Dr. Amy DeMelo, President of Cox College.
Dr. Higdon noted these improvements are crucial for the continued success and growth of the program. In fact, OTC saw more students sign up for Fast Track in the first two weeks of the 2022 Fall Semester than in the entirety of the 2021 school year.
The extension of and improvements to the Fast Track Workforce Incentive Grant was one of the Chamber's top member-driven legislative priorities this year as workforce challenges and access to skilled workers continues to plague employers around the region.
Krisi Schell understands the workforce struggles well. SRC Holdings Corporation has worked to build a strong workforce recruitment strategy to retain employees and promote their role as a choice-employer in the area.
"This program is another tool in our toolbox to attract and retain top talent," Schell said. "We consistently promote from within our workforce, so we want to give our employees the knowledge, skills and education they need to grow and have these opportunities."
One of the industries facing significant workforce shortages is healthcare. And in 2021, one of the top programs utilized for Fast Track funding was allied health.
"We have a significant shortage of nurses right now," Dr. DeMelo explained. "I'm excited about the game-changing grant for healthcare, as it will open many doors for those who want to continue working but attain additional skills at the same time." Dr. DeMelo said.
As OTC is the number one user of the program state-wide, Dr. Hal Higdon understands the importance of this type of workforce support and ensuring the community knows this program is available for use. The community college has already mailed out over 44,000 Fast Track postcards to potentially eligible participants.
However, to maximize spreading the word about Fast Track opportunities, panelists encouraged all employers to get engaged.
Through her human resources lens, Schell encouraged all employers to include this program in their benefits package and consider ways to promote the opportunity to the community and families of employees.
"As employers, it's our job to share this type of program with the community and engage everyone who could benefit from this type of additional training," Schell said.
"Businesses can and should sign up their employees for this program," Dr. Higdon further encouraged. "There are over 100 programs available for high-demand jobs, so this is where businesses should spend their resources. Our higher-education institutions can help you get started."
Click here for more Fast Track promotional resources from the Missouri Dept. of Higher Education and Workforce Development!