Board leaders advocate for business priorities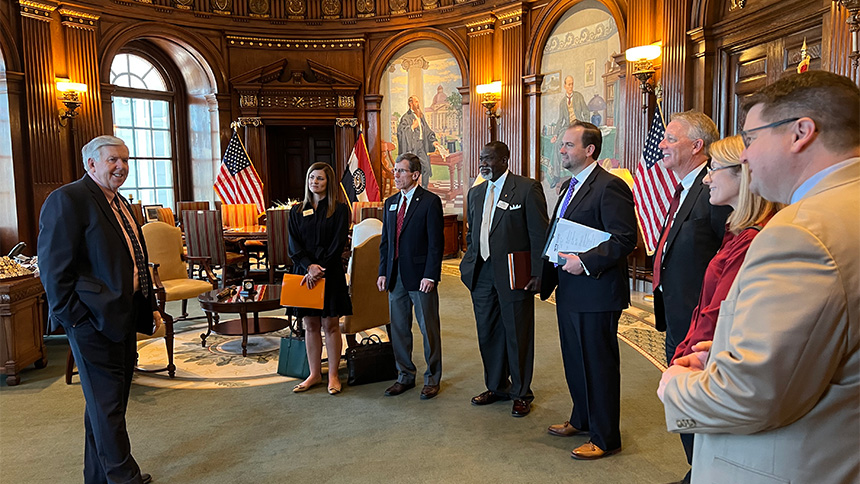 Leaders from the Chamber's Board of Directors visited the state Capitol on March 3 to advocate for board-approved business community legislative priorities.
The delegation included Board Chairman John Oke-Thomas of Oke-Thomas + Associates, and Chairman-Elect Joselyn Baldner of Central Bank of the Ozarks, along with other members of the board's Executive Committee: Trevor Crist of Nixon & Lindstrom Insurance, Bob Helm of Elliott, Robinson & Company, LLP CPAs, Brian Hammons of Hammons Products Co., and Beth Harville of Drury University.
Board members focused on encouraging support for workforce and economic development, investing in transportation infrastructure improvements, improving the business climate through judicial reform, funding K-12 and higher education, reforming the initiative petition process, and discussing the transformational potential of American Rescue Plan Act (ARPA) dollars for the southwest Missouri region.
These topics were discussed with several different lawmakers, including statewide officials, local House and Senate members, and more. A specific discussion point during the day was the reauthorization of the Fast Track Workforce Incentive Grant, a workforce development program aimed at helping adults attain additional, employable skills. This program is critical as employers face immense workforce shortages.
Sen. Lincoln Hough (R-Springfield), who is sponsoring the reauthorization of the Fast Track program, led the charge on getting this bill passed out of the Senate in late February – a monumental feat with the current political tensions in the Missouri Senate. A similar proposal, sponsored by Rep. Travis Fitzwater, is moving through the House.
Rep. Craig Fishel noted the importance of the Fast Track program, saying it "has an incredible opportunity to be a supportive piece of workforce development."
Beth Harville, the board's Vice Chair of Workforce Development, has personally seen how this program provides a second chance to students who may not think additional skills training is available to them. "This is the kind of program that directly impacts nontraditional students and helps to improve their lives while filling a workforce need," Harville said.
Board members discussed these types of workforce investments with Governor Mike Parson and Lieutenant Governor Mike Kehoe, who spoke highly of the Chamber's presence and engagement in the Capitol.
"You all always come up to the Capitol in an organized and efficient way, which I believe is part of the reason why so many great things are happening in Springfield." Kehoe said.
Gov. Parson, an advocate for workforce development and infrastructure investment throughout his time leading the state, also commended the board's reputation in the Capitol and highlighted how they can be helpful in the ARPA allocation process.
"The next three years are critical, so your business community needs to be thinking about 'What are the projects that move the needle for Springfield?'" Parson encouraged. "What are the projects that have strong, collaborative support, and how can you be an advocate for those investments for these once in a lifetime funds?"
The types of projects that have vast potential for long-term positive impacts were discussed with House and Senate local delegation members, many of whom are engaged in the state appropriations process; with southwest Missouri's strong representation on the House and Senate budget committees, they believe the Springfield region is positioned well to benefit from these one-time funds.
Oke-Thomas stressed that the business community should be considered a supportive partner for lawmakers as they advocate for Springfield and the region and work through this process and other legislative issues.
"Let us know how we can help you," Oke-Thomas said. "We appreciate your service and commitment to making Missouri a place where businesses can thrive and grow, and we want to be a helpful partner for you as you navigate this crucial work."