Expanding service at Springfield-Branson National Airport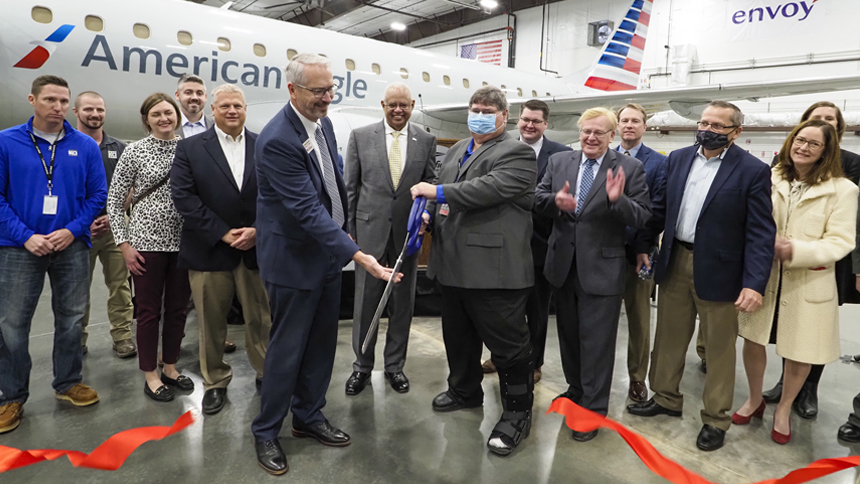 Envoy Air announced in early 2021 that it was planning to expand its aircraft maintenance operations in Springfield. The wholly owned subsidiary of American Airlines Group cut the ribbon on its new facility on December 14.
Chamber economic development staff worked with American to access statewide incentives, including Missouri Works and Missouri One Start Customized Training to help meet the airline's specific needs for this facility. In addition to creating new jobs and investment, this expansion demonstrates American's commitment to ongoing air service in the Springfield region.
American has started flying larger jets from the Springfield-Branson National Airport in recent months; the planes are so large, in fact, that they are unable to fit in the hangar the airline was previously using. To address the issue, the airport built a bigger hangar that can hold three of the larger aircraft, and American will lease the new hangar from the airport.
The new hangar allows Envoy to service more modern Embraer E-175 aircraft that hold 76 passengers. In addition to having room to house three aircraft inside, it has additional room for more aircraft outside, along with dedicated areas for parts storage, training, employee parking and administration.
Envoy provides regional flight service to American Airlines under the American Eagle brand and ground handling services for many American Airlines Group flights. The company was founded in 1998 as American Eagle Airlines, Inc., following the merger of several smaller regional carriers to create one of the largest regional airlines in the world.
Envoy is headquartered in Irving, Texas, with hubs in Dallas/Fort Worth, Chicago, New York and Miami, with a ground handling operation in Los Angeles.
American has grown its footprint in Springfield in recent years. It now has the largest presence of any airline at Springfield-Branson National Airport, flying more than 40 percent of total passengers and connecting them to Chicago, Dallas/Fort Worth and Charlotte.
Airport leaders have worked for many years to build relationships with corporate real estate leaders at American, laying the foundation for this project. Talks about this specific expansion began in summer 2019 and also included the efforts of Springfield's Partnership for Economic Development, which includes the Chamber and its economic development arm, the Springfield Business Development Corp., as well as the City of Springfield, City Utilities and Greene County.