Looking at our community's strengths and opportunities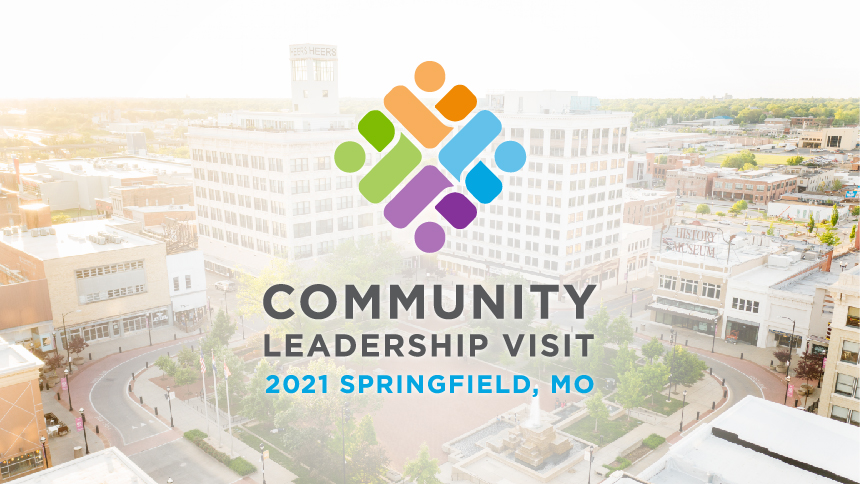 Since 1994, the Chamber has convened community leaders from the public, private and non-profit sectors for the Community Leadership Visit. The delegation of leaders travels to a peer city to learn from their experiences and bring back ideas that will benefit our region.
This year, the CLV initiative took a slightly different approach by paying a "visit" to our own community. Nearly 90 community leaders spent two-and-a-half days traveling to various locations in and around Springfield, evaluating how the community has grown and made progress in the last 10 to 20 years, as well as where challenges and opportunities remain.
"I encourage you to keep thinking back to this: What do we have now that we didn't just 10 or 15 years ago?" asked Logan Aguirre, publisher of 417 Magazine and 2021 chair of the Chamber's Board of Directors. "And what are you inspired to create or do as you look to the next decade?"
Participants took a bus tour around various areas that are in the midst of redevelopment or primed for growth and investment. They also heard panel discussions from community and business leaders on a wide range of topics, including:
The city's major recent wins
Quality of place improvement efforts and long-range planning
Workforce development challenges and collaborative approaches in the works
Regional development and growth
Embracing our identity as an outdoor destination
Innovation in the arts and entrepreneurship
The exploding local food and beverage scene
How we have addressed barriers in the community, and what work remains
The work done over the two and half days was significant, because Springfield is at a major crossroads. The city and the region have made major advances in the last 10-20 years in economic development, education, the arts and the outdoors and more. The city is also planning for its long-term future and collecting citizen input on where investment should be made.
But there are also questions to address. How does our community address the workforce shortage to meet employer needs and give individuals access to better jobs? How do we better define and leverage our regional identity? How can we continue our efforts to be a more inclusive, welcoming community?
Chamber President Matt Morrow summed up the approach of the event during the opening session about our community's progress.
"We're not naïve – our community faces challenges and issues," he said. "But when we begin having those difficult conversations, remember that everything we just covered was at one point just an idea, or an answer to a need or a response to a challenge in our community. They all took willingness to put in the work, combined with a love for this city that I know all of you share."
---
Keep an eye out for our full post-trip report in the coming weeks. You can also visit our Community Leadership Visit history page to look back at previous cities the Chamber has visited and what was learned there.