Annual Meeting focuses on resilience, optimism and hope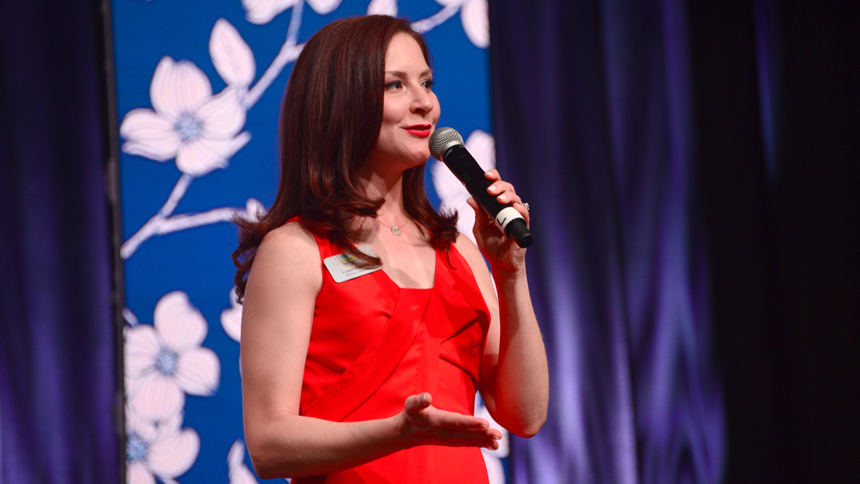 The Annual Meeting is the signature evening on the Chamber's event calendar. It's the time when members gather to look back on the year that was, thank those who served in leadership and look ahead to what the future holds.
Some elements of the 2021 edition of the event, held at the Oasis Hotel & Convention Center and streamed online for members, remained the same as always – such as the announcement of the annual Springfieldian award, given this year to real estate developer Warren Davis.
But many aspects looked and felt slightly different, as so many things have in recent months. Those changes were indicative not only of the current recovery from the COVID-19 pandemic but also of the strength, ingenuity and optimism of our community and the businesses that drive our economy.
The event's visual design centered on the dogwood. It's a flowering tree known as a sign of spring in the Ozarks, but it's also a symbol of resilience, durability and tenacity to withstand challenges – a symbol for the last year.
"We have learned the importance of depending on each other. We've learned how to innovate. In many instances, we learned how to ask for help," Chamber President Matt Morrow told those who were gathered – a crowd half the size of a normal Annual Meeting, sitting at tables further apart than normal and wearing masks when not eating their meals. "And while there was much to grieve in 2020, we also found reasons for hope."
Morrow talked of how the Chamber adapted to meet the needs of members during the pandemic, from new online resources to special virtual events about everything from financial assistance to vaccines.
Last year's board chairman, Robin Robeson of Guaranty Bank, talked about all she learned in her year as chairman – from the importance of supporting each other to the need for connections and relationships.
"I learned that the strongest relationships are like the most beautiful diamonds, formed under intense heat and pressure," she said. "There's no doubt we had intense heat and pressure last year, and when you're put into that kind of a situation with other people and you come out on the other side, you realize how strong the connections and relationships you've formed are."
She said much progress was actually made in 2020, from the city's decision to focus even more intently on placemaking and quality of life to the ongoing discussions about diversity, equity and inclusion that will make our community more welcoming to everyone.
Robin was followed by 2021 Board Chairman Logan Aguirre of 417, who talked about her love of storytelling and her desire to help tell the stories of what is going to help the community blossom as her adopted hometown of Springfield emerges from the current difficulties.
"Looking back at a year for the history books and looking toward our future, think about this," she said. "Our next chapter is just getting started, and we all get to be a part of it. We get to help write it together."
---
Thank you to our Event Sponsors:
Gold - 417 Magazine, Bass Pro Shops, CPI Technologies, Erlen Group, Guaranty Bank, Med-Pay, Inc.
Silver - BKD, LLP, Central Bank/Central Trust Company, Commerce Bank, Foster Hospitality Group, Great Southern Bank, Oasis Hotel & Convention Center, SMC Packaging Group