Helping employers vaccinate our region's workforce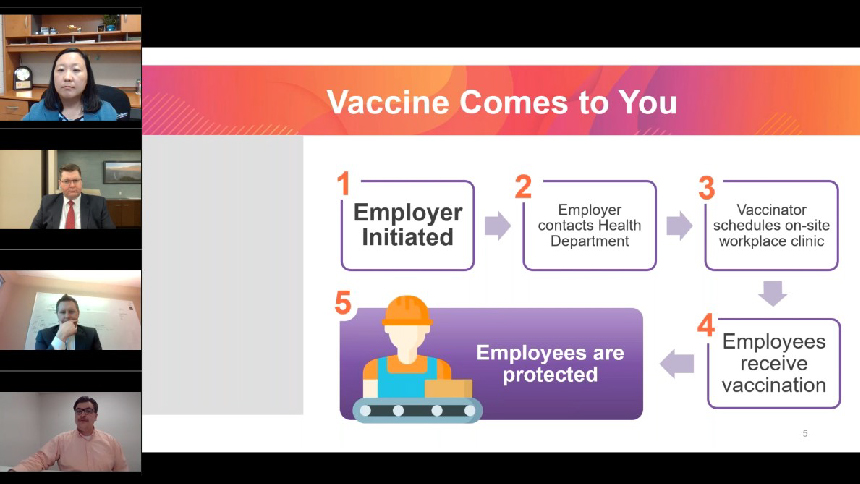 Local and state experts offered Chamber members additional insight into COVID-19 vaccination options for employers during the year's first Inside the Issues event on March 25.
As additional phases continue to open under Missouri's COVID-19 Vaccine Plan, employers face several options for offering vaccines to interested employees.
Shad Burner, Missouri Department of Economic Development regional manager, and Springfield-Greene County Health Department Chief Medical Expert Dr. Nancy Yoon and Public Health Information Specialist Aaron Schekorra took time during the virtual event to address these options as well as additional clinical concerns related to the vaccine.
Burner outlined the upcoming activation of Phase 2 on March 29 and Phase 3 on April 9. He clarified that while many businesses will be eligible under Phase 2, some may have to wait until the opening of Phase 3, which makes all interested Missourians eligible. More specific information about who is included in each state phase is available on the state's COVID vaccine website.
Burner also explained that the state is shifting its vaccine allotment process, moving from equal distribution based on regional population to vaccine distribution based on the percent of the population that is unvaccinated. This state webpage has more information about the state's allocation process.
Dr. Yoon addressed several vaccine clinical questions and hesitancy concerns, including an overview of how the vaccines work, the approval process from the Federal Drug Administration, high efficacy data, and the importance of being fully vaccinated, even if you have contracted COVID-19.
She also noted that, even though there have been extremely limited severe reactions out of the 1 million doses administered in Missouri, there are a few common side effects people can expect, like swelling, tiredness, and muscle pain. Dr. Yoon suggested employers can prepare for potential workforce impacts by suggesting employees schedule appointments on a Friday, having a plan for employees who need to miss work, and spreading out employee vaccinations over several days.
The Centers for Disease Control and Prevention also offered updated guidance on March 25 related to workplace vaccination plans.
Schekorra presented several local options for employers wanting to offer COVID-19 vaccines to their employees. These include having employees initiate vaccination on their own or offering on- or offsite clinics. Please note: Employees must have signed up through Missouri's Vaccine Navigator to be vaccinated through the Springfield-Greene County Health Department or Jordan Valley Community Health Center.
On-site clinics are a good option for workplaces with more staff needing vaccination, and they're the best option for workplaces that employ or contract health care staff. Interested workplaces that have not already signed up can email coronavirus@springfieldmo.gov to inquire about this option. Employers should also survey staff to determine how many employees will need the vaccine, make vaccine educational resources available to the entire workplace, and coordinate appointments for staff receiving the vaccine.
Off-site clinics are the best option for workplaces with few staff, or staff in multiple locations and shifts who are eager to receive the vaccine. Employers can identify the vaccine event that will work best for their schedule here and should make this option to sign-up available to staff. Employers can also share Health Department flyers with employees to let them know their options, allow staff to schedule appointments during their shift, and make vaccine education resources available to the entire workplace.
Employers can stay up to date on local vaccine efforts and opportunities by subscribing to SGCHD updates at surveymonkey.com/r/VaccineEssential.
Also, employers should continue to visit the Chamber's Vaccine Resource Center for vaccine partnership opportunities for businesses, recent COVID-19 vaccine updates, best practices for employers, and more.
Additional Information
Click here to download presentation slides from the Springfield-Greene County Health Department
Click here to download presentation slides from the Missouri Department of Economic Development
If you missed the event and would like to view a recording, click the image below!