Starting the new year by talking with our new Chairman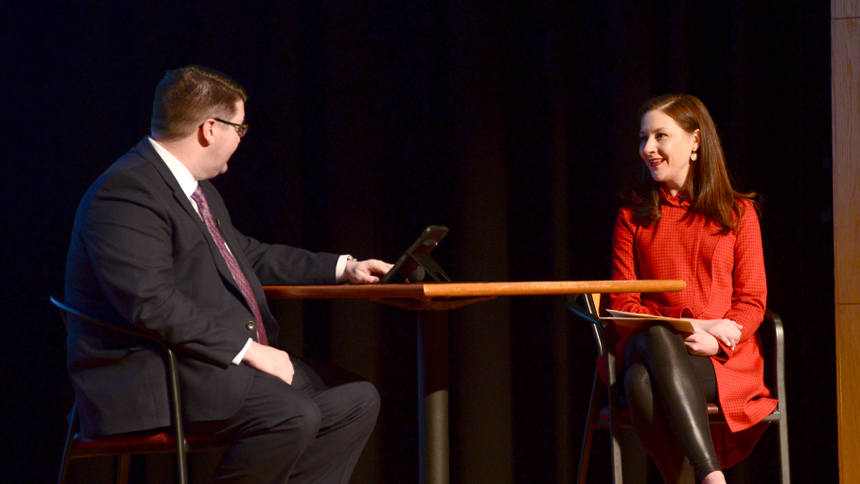 The Chamber kicked off its 2021 event calendar with a hybrid approach to its traditional monthly breakfast networking event, Good Morning, Springfield!
The first event in the series, held January 7 at the Plaster Student Union Theater on the campus of Missouri State University, was presented both in person to a group of roughly 50 attendees and online to both annual passholders and those who purchased an individual ticket to view the event. (The approach is in line with how we will be presenting all of our Good Morning, Springfield! events, as well as our signature events, in 2021 until pandemic-related restrictions allow us to safely return holding events fully in-person.)
The program featured customary updates from Springfield City Manager Jason Gage, Greene County Presiding Commissioner Bob Dixon and Springfield Public Schools Superintendent John Jungmann. Guests also heard a special update from Missouri State University President Clif Smart about how MSU is handling the pandemic and preparing to safely welcome students back to campus for the spring semester.
The featured presentation in the program was an interview between Chamber President Matt Morrow and Logan Aguirre of 417, who is serving as Chamber Board President for 2021. The interview gave her a chance to offer a preview of her approach to 2021 in January, since the Annual Meeting for this year has been moved to May 7 from its traditional date in late January.
She covered several topics, including:
Why it's important for the Chamber to be a representative voice for business – "Last year more than ever, (small businesses like ours) needed the Chamber – we still do. There was so much information, so quickly ... and you were the place we turned when we needed trusted information, when we needed to know what was available for us."
What she's learned from 2020 Chairman Robin Robeson – "I'm so thankful she was the chair in the year she was. Robin is cool under pressure, she asks great questions, she knows when to persuade and when to encourage, and last year we needed a lot of encouraging. I can't thank her enough for the leadership she provided."
What she hopes for in 2021 – "We have to bring our businesses back to whole – and the faster we get vaccines out, the faster we can do that. We need to move from surviving to thriving. After that, I'm excited about action. We had so much momentum last March, and all those things are still here – placemaking, ForwardSGF, workforce development, new projects. We have a lot of pent-up energy, and I'm just ready to take the action to keep going when the time is right."
If you're interested in attending our next Good Morning, Springfield! event – either virtually or in person – visit our website calendar to learn more. You can also click here to check out the full calendar for Good Morning, Springfield! in 2021.
Special thanks to our sponsors: