Community Leadership Visit: A Moment for Reflection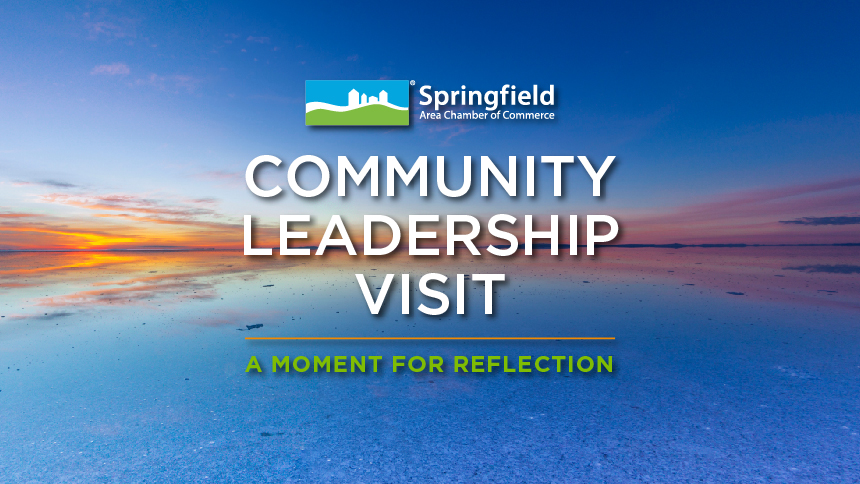 The Springfield Area Chamber of Commerce has been taking business and civic leaders to peer communities across the country each year since 1994. We call it the Community Leadership Visit.
The idea is to learn what other communities are doing and bring their best practices back to Springfield, as well as to learn from their struggles and the efforts they've made to overcome them.
Over the more than a quarter century that we've been leading this effort, we've taken leaders all over the U.S. – from Spartanburg, South Carolina, to Spokane, Washington and numerous locations in between. During the Great Recession in 2010, we even took a year for an intense and introspective study of Springfield's own best-kept secrets ... and the obstacles standing in the way of our own success.
But we couldn't predict COVID-19. The unique struggles of 2020 made a trip this year simply unrealistic.
So why, you might ask, did we not put together a "virtual visit"? After all, numerous other events offered by the Chamber and by other community organizations and businesses have been successfully moved online.
The Community Leadership Visit is a different animal. One of the most important aspects to the successful nature of these trips over the years has always been the personal connections – the planned discussions with leaders from other cities, the pre-arranged meetings with professional counterparts, and the serendipitous conversations with fellow travelers between sessions, on buses or over meals.
Try as we might, we couldn't find a way to make those connections possible through a computer screen.
That said, there's still a lot we can learn from our peer cities. Because regardless of which of the more than 20 cities we have visited since 1994, there is valuable information to be learned and revisited. And there should always be a constant effort to improve our community ... even if it's through introspection here at home.
Join us as we look back at what we've learned over the last 25-plus years, what our community has been able to accomplish as a result, and what potentially great advances loom on the horizon for Springfield.
Top takeaways
While the locations have changed over the years, there have been remarkably consistent themes throughout the history of the Community Leadership Visit. All of our destinations  have exhibited many of the following attributes, and our community leaders have learned from them and implemented many of those lessons here at home over the years.
Cooperation and partnership have been crucial in every successful city. That cooperation takes many forms – public-private partnership, support of the philanthropic sector, business support of education, mentors offering their experience to young professionals and entrepreneurs, and groups with different backgrounds and ideas working together for the common good.
One common thread among cities that have found success is that they put faith in their people. That means a lot of things:
Investing in education and workforce development
Focusing on efforts to retain, attract and develop talent from a wide range of backgrounds to their communities – including a focus on diversity and inclusiveness
Developing and encouraging a spirit of entrepreneurship and small business growth
Demonstrating a willingness to support visionary leaders and big thinkers
Reaching out for broad community feedback, especially when considering big plans and projects
Several of the communities we've visited have focused on strengthening their core: the city center. Revitalized downtown districts have served as catalysts for booming cities across the country. Several also made significant investments in their airports, noting that access to air travel is a key to continued business development.
Many of our peers have also looked beyond their own city limits for success and created robust regional economic development efforts, realizing that the success of their entire region will lift everyone.
But nearly all our peers have shared a love for and pride in their community. That has often manifested itself in a deep-rooted civic identity – from Huntsville's "Rocket City" to Greenville's downtown waterfall – and a strong entrepreneurial spirit, supporting a wide range of community initiatives from education to the arts to the protecting their outdoor amenities.
Putting ideas into action
The Community Leadership Visit is about more than just collecting good ideas. It's about putting those ideas into practice here in our community. There is an extensive and impressive list of programs, projects and initiatives that drew some or all of their inspiration from one or more of our previous trips.
Driving around the city will demonstrate results of those efforts. Some of the ideas for how to develop Jordan Valley Park were sparked by several early CLV trips, including the 2000 trip to Spokane. The early development of the Wonders of Wildlife Museum and Aquarium was inspired in part by the 1998 trip to Chattanooga, among others.
Numerous education facilities can point to a Community Leadership Visit as the source of some inspiration. The new schools funded by Proposition S were supported by the Friends of SPS group, which was modeled after a similar program seen during the 2017 trip to Boise, while OTC's Center for Advanced Manufacturing was modeled after similar programs seen in Chattanooga in 2018 and in other communities in previous years.
The redevelopment of downtown has long been a key priority of Springfield city leaders, but the Jordan Valley Innovation Center in particular was inspired by similar projects in several other peer cities.
While it had long been on City Utilities' wish list, the utility's partnership with CenturyLink on gigabit fiber Internet throughout Springfield was modeled after and catalyzed by a similar partnerships in Huntsville and Chattanooga.
And the development of the Midfield Terminal at the airport – as well as its renaming to Springfield-Branson National Airport – came from trips to Colorado Springs and Des Moines.
Other ideas are less physically tangible, though no less important. The Springfield Regional Economic Partnership, originally created as the Ozarks Regional Economic Partnership, was created as a direct result of feedback collected from the 1997 trip to Boise and reinforced by subsequent trips to Spokane, Charlotte, Little Rock and others.
Multiple community-wide visioning initiatives have been shaped or influenced by community visits, including Vision 20/20 and the current ForwardSGF process. The biennial Community Focus Report was inspired by a similar program demonstrated during a trip to Lexington in 2003 that focused on that city's efforts to be more self-reflective and tackle their own difficult issues.
The Facing Racism program, established at the Chamber and now managed by Missouri State University, was directly influenced by diversity and inclusion efforts in Grand Rapids. And the new Tough Talks program was developed to mimic the Courageous Conversations that Lexington leaders talked about in 2019.
Efforts to attract and develop our people power have been influenced by the CLV as well.
The Network for Young Professionals is a locally grown program, but several visits – including the 2008 trip to Madison – offered best practices to shape the group. And the Chamber's continued efforts to advocate for state-level workforce development programs grew directly from the success of the Alabama Industrial Development Training program in Huntsville.
What's next
To be sure, we intend to resume the Community Leadership Visit in 2021. This year – as it has done with so many other aspects of life – has forced a pause. But there is simply too much value, too much momentum that it generates for this program not to continue.
It's like Chamber President Matt Morrow said when the CLV commemorated its 25th visit in 2018:
"When you look back at what we have learned in 25 years, the body of knowledge we've accumulated is incredible. That only happens because we're willing to step back and take a look at ourselves. That's not always easy to do, but I'm grateful to live in a community where our leaders want to strive to be better every day."
So thank you to the hundreds of people who have had the chance to participate over the years – from all sectors of the community, representing a wide range of backgrounds, viewpoints and ideas to make our community an even better place. We hope you'll continue to be as enthusiastic about this program as we are, and we hope to see you next year.