Positioning employers for good faith compliance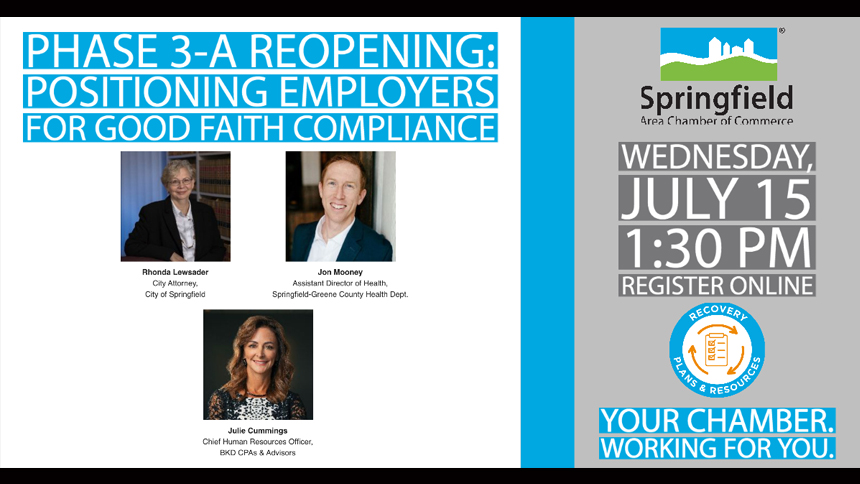 City and business experts provided insight into the new masking ordinance, the current public health data for our region, and best practices for businesses and organizations during a call with Chamber members on July 15.
On July 13, Springfield City Council voted to continue certain occupancy restrictions and require face coverings for 90 days to help stop the spread of COVID-19. This Phase 3A, which went into effect on July 16, comes amid an increase in cases in the southwest Missouri region.
Assistant Director of Health Jon Mooney discussed the increase in cases – including, as of July 15, over 300 active cases, over 600 people in quarantine and the doubling of cases in a two-week time frame. Infectious individuals have visited over 90 locations in the community, and 22 percent of new cases over the past two weeks have been associated with community spread.
Mooney said all these factors have reduced public health capabilities, which has made it more difficult for the Springfield-Greene County Health Department to contact and further trace positive cases within 24 hours.
Even with the increase in cases, Mooney said Springfield has had the lowest rate of infection among other Midwest cities with a population greater than 100,000, attributing this to the strong community response to follow health and safety guidelines.
He added that while enacting policies surround the pandemic has been an expedited process, there was still a large amount of public input and research on community best practices and health guidelines included in the city's face coverings proposal.
Phase 3A continues social distancing of at least six feet and following CDC recommendations to the greatest degree possible, and if not feasible, masking and social distancing of three feet is required with certain exemptions.
Exemptions include children age 11 and under, while exercising, when outside, and those with health conditions or the hearing impaired, among others.
City of Springfield Attorney Rhonda Lewsader emphasized that face coverings are only required in areas open to the public. Due to the different operating guidelines for each organization, specific guidance on what qualifies as a public area is available on the City's FAQ webpage.
Businesses and organizations will not be held responsible for non-compliant patrons. However, businesses should make a good faith effort to make the expectation clear to customers. Business can be penalized if they chose to not follow the ordinance at all, including suspension or revocation of their business license.
As well, businesses are not required to refuse service to patrons who refuse to mask, though they have the option to take these further steps if deemed necessary. Lewsader suggested businesses discuss specific policy decisions with their own legal counsel.
Businesses and organizations continue to face many implications due to the pandemic, and BKD, LLP Chief Human Resources Officer Julie Cummings addressed best practices organizations can follow, including steps BKD, LLP is currently taking.
Because of the impact on workforce, including mental health challenges, revenue and productivity, Cummings recommends a strong focus on transparency and communication with employees to help reduce workforce anxiety.
"There are a lot of unknowns, but try to keep transparency and bring people along in the decision process," Cummings said.
In terms of virus-specific policies, she recommended having a plan in place, whether it's an actual policy or guidance.
BKD, LLP has implemented an infectious disease policy after realizing, like many other businesses, they did not have one pre-COVID. It includes elements like prevention and steps to protect workers, and how to handle non-compliance and accommodation.
Cummings uses many different resources to stay up to date on current data and best practices, and much of that information is included on the BKD, LLP coronavirus website.
Even with a large amount of reported data, there is still uncertainty about the potential for tightening restrictions due to a continued increase in COVID-19 cases. Mooney said it is difficult to provide a specific threshold that would trigger increased restrictions. But officials are constantly watching public health, testing and hospital capacity and evaluating each of those data points, which help inform decision makers on the best policies moving forward.
"All of these sacrifices are challenging, but the more proactive we are, the better off we're going to be," Mooney said.
To hear a full recording of the July 15 call, visit our coronavirus resource center.