Minimizing employer liability during reopening & recovery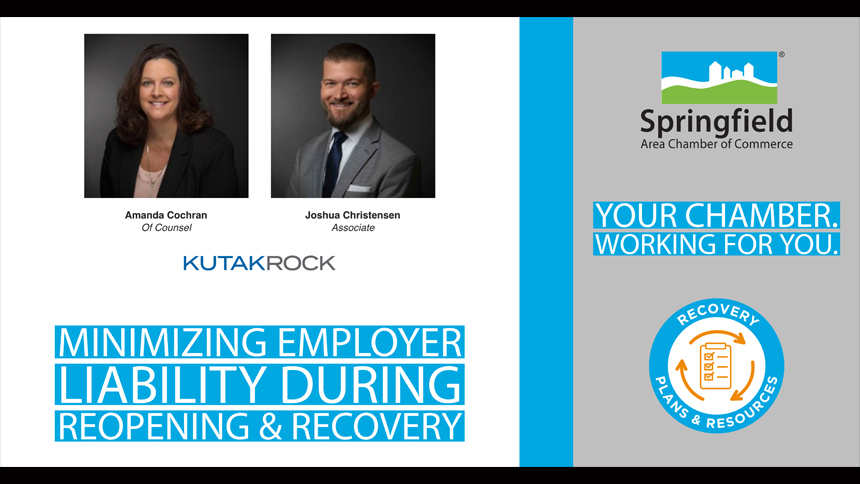 Please note: This information was provided on Wednesday, June 10; guidance may have changed since that time. This information is not intended to constitute legal advice; individuals should contact an attorney for advice with respect to any particular matter specifically facing your business.
As we move further into recovery and reopening efforts, concerns surrounding COVID-19 business liability continue to be a major uncertainty for many across businesses and organizations.
On June 10, legal experts Amanda Cochran and Joshua Christensen from Kutak Rock joined Chamber members via conference call to discuss this evolving issue and provided insight on how members can minimize potential COVID-19 liability risk.
The presenters said that employers have a general duty through OSHA to keep employees safe, and a failure to reasonably address COVID-19 risks could subject employers to liability. COVID-19 is also considered a recordable illness, and OSHA has provided guidance on how to determine if the case is work-related and if it needs to be reported.
"At the end of the day, employees need to know employers care about them, and employers need to let employees know they are doing everything they can to keep employees safe and out of harm's way," Cochran said.
They said the most common liability risks for employers are likely to include worker's compensation claims, wrongful death claims, negligence, workplace privacy and potential employee discrimination. They are already starting to see some lawsuits that fall into these categories, although it is still early, and they expect many more cases to be filed.
Cochran and Christensen provided recommendations on minimizing liability risk by restricting the possible spread of COVID-19 in the workplace. Actions could include temperature screenings, encouraging preventative health measures like using hand sanitizer, limiting employee gatherings, and restricting the number of people entering the business whenever possible.
There is concern, however, about how to balance employee safety and preventative measures with protection of employee privacy under HIPAA rules.
Cochran and Christensen suggested having conversations up front with employees and keeping practices consistent for every employee to avoid potential discrimination. The employee also should let employers know if they all into a high-risk category and work through any concerns with the employer.
In terms of positive cases, they suggested contacting the local health department and letting them contact others who may have been exposed in order to reduce privacy implications.
If an employee has a fear of returning to work due to COVID-19, they suggested having a conversation to determine if any reasonable accommodations can be made for that employee.
"Do everything you can to keep employees safe and understand their fears, but at the end of the day, we all need to get back to work," Cochran said. "It's doing what you can at the forefront versus trying to take precautions at the end."
Cochran and Christensen also outlined general travel guidance, including self-quarantine options. Ultimately, it is best practice to limit work-related travel during this time and provide specific guidance in advance for personal travel.
They offered insight into potential travel policies, including advising employees to self-quarantine if they have traveled, encouraging employees to stay home if they have symptoms, and figuring out what markers an employee would need to reach before returning to work.
Many states have already passed business liability protections related to the pandemic, and an effort is underway to consider similar protections in the Missouri legislature during a possible special session.
"Providing protections for those who are acting while not providing shelter for those who aren't is a great difficulty," Christensen said.
Cochran, who has experience in preparation of employee handbooks, suggested employers should consider amending their employee handbooks to include pandemic-related policies to make sure everyone is on the same page regarding their questions and concerns.
If you missed the event, you can click here to see the PowerPoint presentation provided by Kutak Rock, or visit our coronavirus resource center to hear a recording of the event.