New leaders offer their insights for the New Year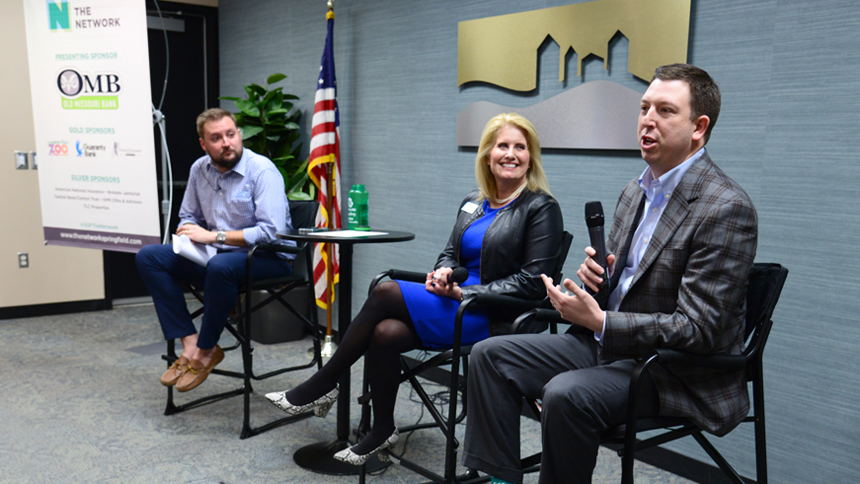 In recent years, it has become a tradition for The Network to start off its year by hearing from the new chair and the new chairman of the Chamber's Board of Directors.
On January 9, nearly 100 YPs gathered at the Chamber to hear from 2020 Network Chair Ryan Sivill and Board Chairman Robin Robeson about everything from their own professional histories to the best advice they've received and why they're excited about the future for Springfield.
The two took different paths to get to their current positions. Robin is a graduate of the University of Missouri and started her career in St. Louis and Nashville. She took a job in Springfield for what she thought would be a two-year stint, but after falling in love and marrying her next-door neighbor, she also fell in love with the city.
"I've lived all over the country and all over the world, and I couldn't imagine living anywhere else," she said. "I want to do everything I can to make this community better."
Ryan, meanwhile, is a local boy, growing up in Chillicothe and graduating from Missouri State. After getting an internship with BKD, he says he realized he could stay in Springfield and "have all the career I wanted, with the friends I wanted."
What else did these two leaders have to say? Read on to find out.
New Year's Resolutions
Robin: This year I'm going to slow down and live more in the moment. The 2019 Robin would have been sitting here thinking about what I need to do next week. The 2020 Robin is sitting here, enjoying your company.
Ryan: Take more time to play with my kids. The world will go on if I take half an hour to build a puzzle with my daughters.
An example of an early lesson you learned?
Ryan: Early in my career, a mentor told me it was important to just be there face to face. Being present is important. There's a lot to be said for just being present. No one expects you to have all the answers but looking someone in the eye and getting to know them is how a lot of things get done.
Robin: I was always willing to take on hard things that no one else was willing to do – the job no one else wanted. That enabled me to move up faster than I would have otherwise. My thought on that was that it's already in such bad shape that it can't get any worse, and if I improve it, I'll be the hero.
What's great about being a YP in Springfield?
Ryan: I don't think in a bigger city, Robin and I would know each other, or (City Utilities General Manager) Gary Gibson and I, or (MSU President) Clif Smart and I. There's just incredible opportunity here, and people value what you have to say.
Why is it important to support YPs?
Robin: Because I want this community to get even better, and I want my company to continue to get better. Many of my YP colleagues are what makes my company a great place to work. I'm really excited about our YPs and inspired by them.
What are you excited about for the future of Springfield?
Robin: I've been on several Community Leadership Visits, and I think that what I've seen on these visits is that things are going to start happening now – things we've seen in these other communities are happening here too. There's a sense of place.
Ryan: Are we ready to make the leap? Heck yeah. We're humble, and that's great. But we have a story to tell, and we need to be ready to tell that story to anyone who comes here and wants to build that story with us. Momentum like this doesn't happen all the time, and we need to grab it.