Small Business Spotlight – September 2022: ProSource Wholesale of Springfield
Company name: ProSource Wholesale of Springfield
Person in charge: Linda Merkling, Regional Manager
Year founded: Springfield, Missouri, franchise opened in Dec. 2020 (Corporate 1991)
Tell us about the history of your business:
ProSource Wholesale has been in business for 31 years with 150 stores across the United States. We are committed to the success of local trade professionals including contractors, remodelers, installers, designers, and more. Proud to have established ProSource Wholesale as the leader for home remodeling success, with large vendor buying power.
Describe the services your organization provides and what makes you unique:
We are a full-service, local wholesale store providing full kitchen and bath design services. We carry flooring, cabinets, countertops, plumbing, tubs, showers, and all of the supplies to do the project. We are an extension of your business and become a partner with you, offering a dedicated project manager to make your selections easier. We are a solution, offering direct shipping, subs, and we love a challenge!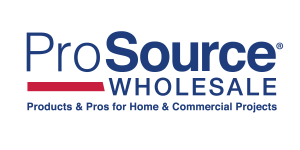 Tell us something people might not know about your organization:
We are locally-owned and support the community through many non-profit organizations and associations. We offer a consultative approach to assist you with the process of new home build or remodel. We have an incentive referral program for our members and offer a corporate alliance program to benefit local business owners, saving money for their employees. We believe in giving back!
What is the biggest challenge facing your organization now, and how are you working to overcome that challenge?
Like many others, our local trade professionals are challenged with workforce development and finding quality employees. The building industry has so many opportunities to train and develop people to grow in the company. We encourage participation in shadowing or interning to learn a trade.
Material timelines are continually a challenge. ProSource offers many options to provide results for you. We want to be a solution and be a resource to assist with your project, saving time and money.
What is the best business advice you've ever been given?
You can make a difference one person at a time. I enjoy connecting people to help them grow and develop. Plant seeds and invest time, they will remember your kindness. Choose to "make it a great day!"