Small Business Spotlight – November 2022: 417 Housecalls
Company name: 417 Housecalls
Person in charge: Timothy Hubbard
Year founded: 2021
Describe what your organization provides for its customers:
417 Housecalls started as a vision to provide meaningful healthcare in patients' homes. Whether sick or well, we wanted to make healthcare convenient, comfortable and patient-centered while helping patients find the true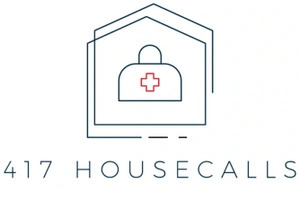 root cause of their health concerns. During COVID this proved very helpful, as we were able to treat patients, keeping them in their homes and out of the hospital. Since our practice has grown, many patients outside of our travel area were seeking our services. Therefore, we opened a physical medical office to give patients options of virtual visits, office visits or home visits. This has allowed us to expand our services and the amount of people we are able to reach.
Give us a brief history of your business and what makes it unique:
We provide healthcare with an integrative approach. We believe the patient should be in charge of their own health and make informed decisions when it comes to healthcare. We pride ourselves in educating our patients of risks and benefits of treatments, whether they are prescription or alternative treatment options and allowing the patient to decide what they feel is best for their care. We provide comprehensive lab testing, hormone testing, suturing, pediatric care, IV infusions, COVID-19 treatment, functional medicine, primary care and same day sick visits. Our visit times are longer than your average medical office, as we are a small team aiming to make a large difference in the health of our community.
What's the most exciting recent highlight for your business?
We are a local, independently owned Christian organization. We also have an office! Despite our name, we do have an office space we see patients in!
Where do you hope to see your business in 12 months?
Space! As we have grown, we have outgrown our current space. We are currently seeking a larger space to provide even more services to our patients.
What advice would you offer to someone starting their own small business?
It takes nothing to join the crowd. It takes everything to stand alone.