Small Business Spotlight – May 2021: Quality Clean
Company name: Quality Clean
Person in charge: Burnis and Cindy Gibson, owners
Describe what your organization provides for its customers:
Quality Clean provides customized janitorial services, commercial carpet care, floor maintenance, and disinfecting services to all southwest Missouri.
Give us a brief history of your business and what makes it unique:
Quality Clean is a locally owned and operated company that was established in 2003. We've been in business for 18 years. At Quality Clean, we are customer focused and customer driven. Our business philosophy of local service is the key to our success. Our leadership has proven itself to be strong, experienced, and stable. Our management continues to bring forth a wealth of fresh ideas, processes and experiences to strengthen Quality Clean even more. We are a "hands-on" company. Our leadership team is responsible and accountable for Quality Cleans' integrity. And finally, we have a vision that is constant and unwavering: To be our customers' best vendor. This is who we are and how we operate. We're delivering on our commitment to drive excellence in all that we do.
What's the most exciting recent highlight for your business?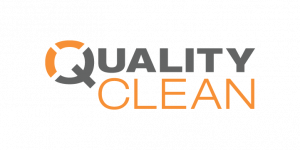 Quality Clean has had growth from our very first year and has grown steadily year after year. While 2020 was challenging for a lot of business owners, we were able to hire a third manager and have added about eight new employees. The cleaning industry for so long has been one of those things that nobody wanted to pay for but was necessary to keep the trash emptied and building tidy. Now, cleaning is finally in the forefront of facility managers minds as they  have navigated COVID-related issues and how to keep employees and visitors safe while in their facilities. This combined with our normal growth has made for a great year for our business.
Where do you hope to see your business in 12 months?
We are always looking forward; we look to continue our growth regionally and continue to be a leader in the cleaning industry in Southwest Missouri and beyond. We constantly are seeking out ways to provide better service for our customers and provide better pay, opportunity, and benefits for our employees, as we would not be the company we are without either.
What advice would you offer to someone starting their own small business?
Give it your all. There will be disappointments along the way, especially in the beginning. Be aware of the industry you are entering, especially your competition because they are always trying to knock you on your heels. Do what you do, and strive to be the best at it because quality work is the best salesperson you can have.