Small Business Spotlight – March 2023: Vroom Solar
Company name: Vroom Solar, Inc.
Person in charge: Luke Phelps, CEO/Founder
Year founded: 2020 we started filing patents and formed C-Corp in July 2022
Tell us about the history of your business:
Luke's former company, Red Barn Solar, specialized in commercial AG solar installations all over Northern Missouri. While operating this business, Luke decided to start trying to provide onsite power in rural areas for his install crew. Luke began work on a design for mounting solar quickly to any cargo trailer after observing that there was plenty of space on the trailer roof.
From his previous experience working with solar energy, Luke knew that batteries were the weak link and the most expensive part of off-grid solar. To offset the cost and increase durability, Luke created his patent pending load management technology that allows direct solar to multi-load AC power. This technology allows you to choose whatever storage fits your situation best but always have power for needs when the sun is shining.
Vroom Solar has also uncovered that our efficiency is greater than standard solar systems because of the direct consumption to loads and the excess power going into storage. Today, the technology has grown into many more usable areas like boat docks, EV charging ports, remote farm buildings, shipping container offices, and more.
Describe the services your organization provides and what makes you unique:
Vroom Solar is providing a unique patent-pending solar mounting solution and a patent-pending multi-load management solution. No batteries or grid connection is needed to operate.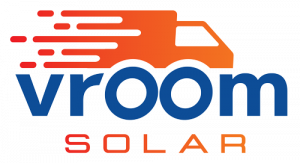 Tell us something people might not know about your organization:
Vroom Solar plans to donate 1 system kit for every 25 systems sold to non-profits such as schools, disaster relief, and underserved communities.
What is the biggest challenge facing your organization now, and how are you working to overcome that challenge?
Developing a brand-new product always takes more time and money than you initially plan on. We are working on several funding sources to get the capital that we need such as StartEngine crowdfunding, Department of Energy grant opportunities, state incentives, and more. We have recently received a MO Works award of $212,000 for the economic development of high-quality jobs.
What is the best business advice you've ever been given?
Don't grow too fast and enjoy the journey. Like many things in life, we want to get to the next milestone and then think that we have finally arrived. That is simply never the case. It takes many steps, a strong team, and the drive to just keep going when things are good or hard. Just enjoy it.