Small Business Spotlight – June 2022: BigPxl
Company name: BigPxl
Person in charge: Drew Owen, partner
Year founded: 2014
Tell us about the history of your business:
We started out in 2014 as JumpSIX Marketing, but after six years in business and an ownership change, we rebranded in 2020 as BigPxl—a name that is much more fitting for who we are today. We're big-picture thinkers who delight in the details. We can confidently say that we've gotten better every year, and we're committed to continuing to do so.
Describe the services your organization provides and what makes you unique:
We believe doing the right thing (even when it's a bit painful) is the only way to do business. Every decision we make for our company and for our customers is driven by transparency, proactive communication, and education. Making sure our clients understand the "why" is vital to helping them scale their business. We realize that if there is not a positive R.O.I, then we're not providing value to our clients. We're honest about the good, the bad, and the ugly. Therefore, when something's not working, we're proactive in our approach and shift our strategy when needed. Our clients really appreciate this approach.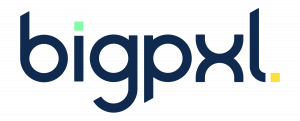 In the ever-changing landscape of digital marketing, there are many moving pieces that need to work together to create optimized results. That's where we thrive. We thrive by integrating multiple services to create big-picture strategies and then nailing the tiny details it takes to execute them. We offer a full range of digital marketing services—including SEO, inbound marketing, and paid advertising; website development; and creative services—including branding, photography, graphic design, and video production.
Tell us something people might not know about your organization:
We have a giant cardboard robot and a giant fly in our office. Do they battle? Sometimes. We will be taking no further questions at this time.
What is the biggest challenge facing your organization now, and how are you working to overcome that challenge?
When the pandemic hit, we expected business to slow down. Therefore, we thought it'd be an ideal time to restructure our entire organization. We overhauled our company processes in order to align our sales process and internal operations. Much to our surprise, we saw a quite a bit of growth during the last few years. Overhauling our processes while we continued to grow our client base, has been tough. It's not a bad problem to have, but it definitely came with its challenges. We've invested a huge amount time, effort, and resources into the business, including building out our leadership team. The work has paid off. We're more efficient than ever and set up for future success and continued growth.
What is the best business advice you've ever been given?
You can have the best processes, the best people, and the best sales program, but if you don't have healthy, proactive communication, it will be difficult to achieve the highest level of success. Effective collaboration is vital. I'm always so impressed with how our team communicates with each other and navigates the complex world we live in.