Small Business Spotlight - June 2021: Sapp Design Architects
Company name: Sapp Design Architects
Person in charge: Michael Sapp, president
Year founded: 1986
Describe what your organization provides for its customers:
Sapp Design provides a blended approach to architecture, interior design, and master planning services throughout the Midwest. As your partner in a complex world of design and construction, our proactive approach seeks to anticipate your needs and enhance your space through a fusion of innovative & time-tested solutions. We are here to guide you through whatever project you might have with our team of highly knowledgeable professionals that will help you find solutions in an efficient and holistic manner.
Give us a brief history of your business and what makes it unique:
Sapp Design Architects' humble beginning started in 1986 in a small house located along Springfield's Historical Walnut Street. During our early years, the firm focused on various project types but quickly found their passion in the public market – where we could most broadly impact each local community.
Fast forward 35 years, our team of 23 passionate architects and interior designers have become known as trusted advisors working with communities across the Midwest, specifically in the fields of public education, higher education, libraries, safe rooms, civic municipalities, and local businesses. We take pride in the fact that we are a group of problem-solvers & innovators – always pursuing the best path forward to assist our clients in finding a comprehensive solution.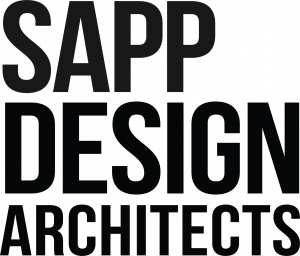 What's the most exciting recent highlight for your business?
In the last three years, Sapp Design Architects opened an office in Kansas City and is working with one of our nation's largest library systems to modernize all 38 facilities and, in some instances, literally rewriting the book (pun intended) on how libraries service communities beyond books and promote lifetime learning. A prime example of this is the new Green Hills Library Culinary Literacy Program. This innovative approach to library design includes three full-service commercial incubator kitchens for aspiring chefs to perfect their cooking craft. When ready, these entrepreneurs can head over to the new Colbern Library Center's Square One business center to receive assistance in business planning.
In the field of education, our team is collaborating with multiple districts on several early childhood centers, middle schools, secure entrances and performing arts centers. We are also excited to physically integrate a Boys & Girls Club into another new local elementary school to provide before and after school programs.
Within the Midwest, we reside in a tornado alley. Since 2006, our team has proactively and passionately assisted communities with the funding, design, and construction of nearly 80 structures that have protected tens of thousands of people during severe storms. This year we are proud and humbled to continue to work on an additional 12 new such facilities!
We recently received notice that our firm will be receiving recognition this September from 417 Magazine as one of Springfield's "Best Places to Work" for 2021. We take pride in serving our clients to the best of our ability and our fellow employees by continuously improving and creating a healthy, collaborative culture.
Where do you hope to see your business in 12 months?
With the economic recovery underway, we see expanding growth within our markets. This growth will allow us to continue to invest in new technologies, infrastructure and our people.
What advice would you offer to someone starting their own small business?
Finding trusted advisors for business operations is essential. This includes legal, accounting, banking, human resources and insurance. This group of professionals can provide a wealth of knowledge to help set your business on a solid foundation to build from. In addition, mentorship from other business owners can offer "lessons learned" and serve as a tremendous support group.