Small Business Spotlight – June 2020: Spring Valley Veterinary Hospital
Company name: Spring Valley Veterinary Hospital
Person in charge: Dr. Rebecca Skinner
Describe what your organization provides for its customers:
Our organization provides veterinary care, grooming, boarding, and daycare of small animals in the Springfield area. Our two veterinary locations Spring Valley Veterinary Hospital East and West are located at either end of Sunshine, Happy Tails Doggie Daycare and Boarding is located right next door to our East Hospital on Enterprise and Sunshine.
Give us a brief history of your business and what makes it unique:
We value our community and our people. We put a heavy emphasis on treating people fairly, preemptive and exemplary communication to our clients, and providing the level of medicine and care that we'd expect our own fur-legged family to have. Spring Valley Veterinary Hospitals were sparked by the ambitions of two great veterinarians, Dr. Ted Betzen and Dr. Liisa Carlson, and now fueled by veterinarians, office managers, technical staff and customer support representatives who care about making a difference.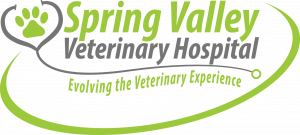 What's the most exciting recent highlight for your business?
Our second location, the West location, has been fun to assimilate into the fold. The challenges of getting to know a new team is offset by being able to reach more pets in the Springfield area! We are standardizing services and availability of medications as well as accommodating more same day urgencies by sharing the load between the two offices. We also have a groomer now at the West location for all the pampered pets of Springfield!
Where do you hope to see your business in 12 months?
In the next year we hope to have seamless care between the two veterinary offices where communication between the offices is complete and efficient as well as improving our ever-important ambition of focusing on communication to our clients.
What advice would you offer to someone starting their own small business?
One day or day one ... you choose. Prepare as much as you can but know that you'll never be fully equipped for the challenge.  The school of hard knocks is the most important way to learn ... and you will.