Small Business Spotlight – July 2020: Elliott, Robinson & Company, LLP, CPAs
Company name: Elliott, Robinson & Company, LLP, CPAs
Person in charge: Bob Helm, CPA - managing partner
Year founded: 1973
Describe what your organization provides for its customers:
As a full-service accounting firm, Elliott, Robinson & Company, LLP, CPAs, is all about building relationships with individuals and businesses. Every situation is unique and personal to our clients, it's very real. Our approach is to meet with those clients, to earn their trust, and to build that relationship. Our engagement process allows clients to know we understand their situation, and to know we're working to make their lives easier and better by performing the services we perform.
We handle and solve client issues from any perspective that they might need. Sometimes it is as simple as referring them to someone for banking, insurance, investment or other needs that might be brought to our attention. Our goal is to make them feel we are more than accountants; we are trusted business advisors who assist to help them run their business more effectively which typically means more profitable. We come alongside clients to show them how to accomplish not only their business and financial goals but also their personal goals. Because life is more than just their balance sheet.
Give us a brief history of your business and what makes it unique:
Our Mission: To be our clients' most trusted business advisor.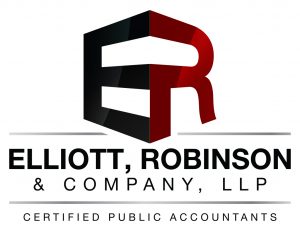 We recognize that each client has unique needs and situations. Our approach is simple and effective: we listen, evaluate, and help you create solutions that are designed to meet your needs.  You are not a number to us; you are a client and we hope over time, a friend.
In 1973, Gordon Elliott established a public accounting firm whose purpose was to provide quality services to family-owned businesses in the Springfield community. He started with limited staff, but unlimited drive. From the beginning Elliott Robinson has been committed to providing exceptional service to individuals and small businesses.
Today, the number of passionate and skilled professionals in our firm continues to grow as our services expand. Even as our firm expands, we remain devoted to meeting clients' needs accurately, effectively, and on time. With a professional staff of accountants, Elliott Robinson offers tax and auditing services in addition to specialized areas including:
Historic Tax Credits, Audits, and Certifications
Low Income Housing Projects
Retirement Plan Administration and Audits
Non-Profit Industry
Business Valuations
Fraud Examination
What's the most exciting recent highlight for your business?
Named to Accounting Today's 2020 Best Accounting Firms to Work For
At the start of 2020, Elliott Robinson proudly announced the promotion of two new Partners: Carrie Brown, CPA, and Stephanie Rice, CPA, CFE
The fact that we are now well into the second generation of the firm and continue to be very successful is a huge accomplishment as a locally owned business. With that comes excellent growth and opportunities for the staff to advance within our firm.
As it pertains to innovative services, the most significant areas we have upgraded would be with valuation and litigation support services.
We now have 4 team members who are CFE credentialed (Certified Fraud Examiner) and 2 team members that are CVA credentialed (Certified Valuation Analyst) which has allowed us to take on new and higher-level engagements for the firm.
In addition, we signed a contract in August 2019 with the Department of Economic Development to review cost certifications for the State of Missouri, an area we have accomplished skills in plus experience. The Department of Economic Development has a tremendous backlog and solicited our firm (1 of 2 in Missouri) to assist in reviewing engagements that issue tax credits for historical tax credit projects in Missouri.
Where do you hope to see your business in 12 months?
Simply put, the future of Elliott Robinson is great, with an excellent staff that is second to none who are committed to serving our clients at the very highest level.
We take pride in what we do, which results in the positive impact we have had on the families and businesses we serve. Elliott Robinson has a strong history of proven success, and we are looking to the future. We seek new ways to meet our clients' changing needs, and constantly reach new levels of expertise with qualified staff. We credit our success mainly to the way we've done business for over 47 years: placing the highest value on our clients, every step of the way.
How has your business adapted its operations to deal with the ongoing coronavirus crisis?
In response to the coronavirus pandemic, Elliott Robinson adapted its operations by implementing a fully comprehensive Virtual Workplace firm-wide across all three office locations in Springfield, Republic and Branson. The virtual workplace technology enabled our staff to work remotely while providing seamless services. Limited staff then worked in each office location to process accounting and tax documentation.
To aid in the offering of an additional method for digital submission of tax information, Elliott Robinson created and installed an Online Client Portal located on the home page of the firm's website in order to securely upload documents. Other accommodations include virtual client meetings, no contact drop off and pick up options for the exchange of documentation, and PPE implementation according to state, city and county guidelines.
What advice would you offer to someone starting their own small business?
From a fundamental starting point, surround yourself with good business professionals (attorney, CPA, insurance, banking, etc.), develop a business plan, and create the applicable budgets. Depending on the type of business, a key to long-term fiscal stability is to have a good understanding of financial data and processes such as payroll and the related accounting due dates along with basic knowledge of reading and understanding financial statements. Proactively practicing consistent business characteristics to be efficient, conservative, and realistic will propel a business start-up.