Small Business Spotlight – January 2022: Carnahan Evans PC
Company name: Carnahan Evans PC
Person in charge: Christiaan Horton & Jay Preston, executive committee members
Year founded: 1979
Describe your organization, including its history and the services you provide:
Carnahan Evans is a full service business and estate planning law firm. Our attorneys concentrate in multiple practice areas extending from corporate, estate planning, tax, real estate, medical marijuana, and litigation/dispute resolution for all those areas.
Founded in 1979, Carnahan Evans is a locally owned and operated law firm, noted for its commitment to providing superior client service to a diverse client base, including national and regional businesses, financial institutions, not for profit organizations, and individual clients.
What makes your organization stand out?
The one thing that's constant at Carnahan Evans is collaboration. The practice areas that our firm focuses on really complement each other, and that results in a powerful collaboration between our attorneys, which in turn benefits our clients. A client may come in for what they believe to be a single transaction only to realize that they actually need multiple attorneys in various practice areas to assist. The great part is that client doesn't have to bounce around to multiple firms; all the expertise they need is under the same roof at Carnahan Evans.
Describe an exciting recent highlight for your organization: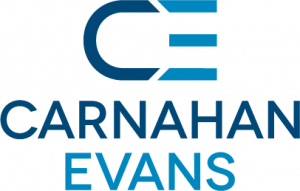 We have rebranded! Formerly known as Carnahan, Evans, Cantwell & Brown, we are now Carnahan Evans. We have a new name and a new look BUT the same dedicated attorneys and the same superior client service.
One may ask what prompted this name change. That's an easy answer, our clients. The reality is our clients were already calling us Carnahan Evans in casual conversations.
Our rebranding signifies success, collaboration, and a commitment to innovation. Our success is a nod to the firm's history, clientele, growth, and the talent of our attorneys. The collaboration component is acknowledging how our clients' brand and recognize our firm. Finally, we are committed to staying on top of cutting-edge trends in our industry to ensure our clients get the best service possible.
How has your organization changed in the last 12 months, and what do you see for the future?
Carnahan Evans implemented a strategic multi-faceted marketing approach over the past year to roll out our firm's rebrand, new logo, the recent hiring of 3 new attorneys, and 2 new shareholders.
With the rebrand, we give a lot of respect and honor to the history upon which we were founded. But we also want our clients to know that they've got a law firm that's on the leading edge of what's happening in the legal world.
To build upon our depth, the firm proudly announced the recent hiring of attorneys, Kirk A. Kaczmarek, Robert E. Petrowsky, and Robyn A. Horton. Effective January 1, 2022, not only included the launch of a rebrand but the announcement of two attorneys named Shareholders of the firm, Andrew T. Peebles and David K. Olive.
What advice would you offer to someone looking for the type of services your organization provides?
Business owners come to us with the primary challenge of having jumped into a transaction, documented it on their own, thinking they didn't need a lawyer, and suddenly realizing they now have a dispute with someone they thought was their partner.
Nobody expects the unexpected. An important part of being a business owner is having the right counsel you can rely on to protect yourself from unforeseen risks.
The best time to bring in an attorney is at the very beginning of the transaction before you even begin negotiating with someone over a deal. It will pay for itself and then some. We're able to bring solutions and ideas to the situation that our clients haven't even considered.