Small Business Spotlight – December 2020: Big Bear Shredding
Company name: Big Bear Shredding
Person in charge: Adam Coroleuski, CSDS
Year founded: 2001
Describe what your organization provides for its customers:
Big Bear Shredding provides its clients NAID (National Association for Information Destruction) AAA certified mobile document shredding service. This white-glove service is performed either as a one-time service or on an ongoing basis. Big Bear Shredding employs two CSDS (Certified Secure Destruction Specialist) employees that act as trusted advisors and help customers mitigate risk associated with disposal of sensitive information.
Give us a brief history of your business and what makes it unique:
Big Bear Shredding started as Computer Recycling Center's document shredding division. Computer Recycling Center has been serving Springfield and the surrounding communities since 2001. In September of 2019 CRC Shredding announced its rebranding to Big Bear Shredding in an effort to better communicate the service to current and future customers.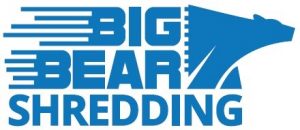 We:
Are NAID AAA certified
Have CSDS employees
Drug screen/background check employees
Are locally owned and operated
Offer on-site shredding at your location
Serve a 100-mile range
What are the most exciting recent highlights for your business?
Rebranded in September 2019
New mobile document shredding truck purchased in September 2019 allows us serve more customers
Implemented industry specific software that helps us better serve our customers
Where do you hope to see your business in 12 months?
We see ourselves continuing to provide existing and new customers with industry-best security and service.
What advice would you offer to someone starting their own small business?
The devil is in the details
Partner for performance