Small Business Spotlight – August 2021: Vital Farms
Company name: Vital Farms
Person in charge: Russell Diez-Canseco, president & CEO
Year founded: 2007
Describe what your organization provides for its customers:
Our products are ethically produced and pasture-raised, meaning the hens who produce our eggs and the cows who produce milk for our butter were raised with daily outdoor access. Our consumers consistently tell us that our egg provide a richer taste and color than other eggs on the market.
EGGS: We follow pasture-raised egg standards set by Certified Humane®, which require each hen to have a minimum of 108 square feet of land and daily outdoor access. The family farms we partner with provide hens with roaming room in fresh pastures, with the freedom to forage for local grasses, succulents and wildflowers while enjoying fresh air and sunshine.
HARD BOILED EGGS: Vital Farms makes snacking on ethically produced food easy with our pasture-raised hard-boiled eggs. Our pasture-raised eggs are boiled up, pre-peeled and packaged pairs with tiny travel-size salt and pepper. Consumers can pick up a box for breakfast on the run, lunch at their desk or pre/post-workout perfection.
LIQUID WHOLE EGGS: Pasture-raised goodness without the shells! Fresh eggs are collected from pasture-raised hens and cracked for consumers. They can pour with speed and precision, making baked goods, scrambles and omelets with ease.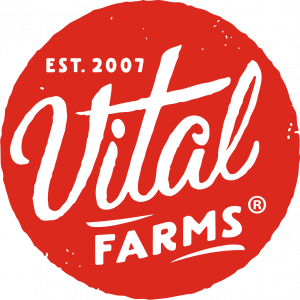 Our purpose at Vital Farms is to bring ethically produced food to the table, and we believe that sourcing our products from pasture-raised animals is a humane and sustainable way to achieve that. So, our network of family farms raises girls on grass (the ones who lay our delicious eggs), and four-legged ladies with care and respect!
BUTTER: Grazing girls live a pasture-raised lifestyle on American family farms, supplying a rich milk for butter-makers to churn into something special. With 85% butterfat, we believe our pasture-raised butter provides a rich, great taste.
GHEE: Pasture-raised butter is cooked down, removing the water and milk solids, and what's left is Vital Farms Pasture-Raised Ghee! We believe this is great for high-heat cooking, and it's available as spoon-able and squeezable in Original and Himalayan Pink Salt!
Our Egg Bites are made with ethically sourced ingredients like pasture-raised eggs and cheese, and humanely raised meats. Every product comes with two Egg Bites, has 16–18 grams of protein per serving, and is ready in just 45 seconds.
EGG BITES: We took our pasture-raised eggs (that you know and love!), combined them with pasture-raised cheese, humanely raised meats and veggies to create a protein-packed breakfast. Now you can eat like a morning person without waking up like one.
Give us a brief history of your business and what makes it unique:
Vital Farms began with a husband and wife, 20 Rhode Island Reds, an Austin pasture and a strong believe that a varied diet and better animal welfare practices would lead to superior eggs. Matt and Catherine aspired to produce ethical food and a sustainable business. Today Vital Farms partners with approximately 200 family farms. Hens are humanely treated, egg are pasture-raised and we continue to elevate our (and the industry's) standards. Our purpose is rooted in a commitment to Conscious Capitalism, which prioritizes the long-term benefits to each of our stakeholders (farmers and suppliers, customers and consumers, communities and the environment, crew members and stockholders).
What's the most exciting recent highlight for your business?
Vital Farms, a Certified B Corp that offers pasture-raised, ethically sourced products in approximately 16,000 stores nationwide, is expanding its operations in Springfield just three years after breaking ground on its first facility here. Dubbed "Egg Central Station," the company's approximately 82,000 sq. ft. facility in Partnership Industrial Center West currently employs nearly 100 crew members. The expansion, which we anticipate completing in 2022, is expected to bring the facility to a total of approximately 153,000 sq. ft. of space and add more than 50 full-time jobs with benefits.