Small Business Spotlight – August 2020: Safe and Sober
Company Name: Safe and Sober
Person in Charge (and title): Jill Finney, Executive Director
Year founded: 2004
Describe what your organization provides for its customers:
Safe and Sober is a nonprofit organization that delivers educational programs and content designed to empower young people to make safe choices. That includes choices related to physical, mental, and emotional safety and includes topics such as underage drinking and substance use, nicotine use and vaping. We also cover topics that can be the root cause of unsafe choices such as stress, depression, fear and anxiety.
Safe and Sober video content features real youth and their families designed to show the importance of staying safe and sober. Positive peer pressure and support from parents and teachers holds students accountable and creates a culture of change. Safe and Sober also provides parents with content to support their parenting efforts to keep their youth safe and sober.
Give us a brief history of your organization and what makes it unique:
Attorney Kurt Larson founded what was then called Safe and Sober Prom Night in Springfield in 2004 as a seasonal school program. As a trial attorney, Kurt saw the devastation caused by drunk drivers. As a father of two teenagers, Kurt also knew the peer pressure teens face when it comes to drugs and alcohol. Kurt was motivated to begin visiting schools and talking with teens about the consequences. Kurt partnered with Pam Holt for program growth and expansion.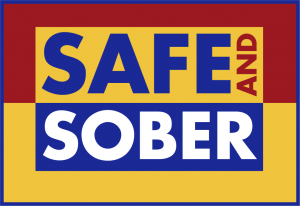 Since 2004, Safe and Sober has grown. What started in the five Springfield high schools with 748 participating students grew to a regional program. It then grew into a statewide program. During the 2018-2019 school year, the program was able to reach 506 Missouri high schools. This resulted in over 170,000 students experiencing the culture changing program. We are now a national program delivering content to schools in 10 states.
What's the most exciting recent highlight for your organization?
Due to thoughtful planning and preparation, Safe and Sober had invested in a virtual platform to deliver Safe and Sober content for what would be future nationwide expansion. When schools were forced into remote learning in early 2020, Safe and Sober was able to immediately deliver virtual content. As a result, Safe and Sober is now deliver programming in ten states and is now a national program.
Where do you hope to see your organization in 12 months?
We continue to pivot from a program that originally focused solely on underage drinking to a more holistic program that focuses on the root cause of substance abuse, which includes mental, physical and emotional health. As we expand our scope, we continue to raise funds to support our expansion.
How have you adapted its operations to deal with the coronavirus crisis?
Our team went full-time remote in early March in response to the pandemic. Operations ramped up due to the additional schools using our content in states outside of Missouri. We have been able to transition board meetings to remote meetings, which aligns with our goal to expand board membership and still have effective meetings. Our customers have been able to easily deliver virtual content and programs to their students due to the investment we made the previous year in the technology platform. Our biggest need since the novel coronavirus parallels the mental health crisis that has been magnified since the pandemic stated: We have a very large unmet mental health crisis in our country and we are excited to deliver content to schools to help address that crisis.
What advice would you offer to someone starting their own small business?
You can tackle big problems. The only limitations are the limitations you put on yourself.