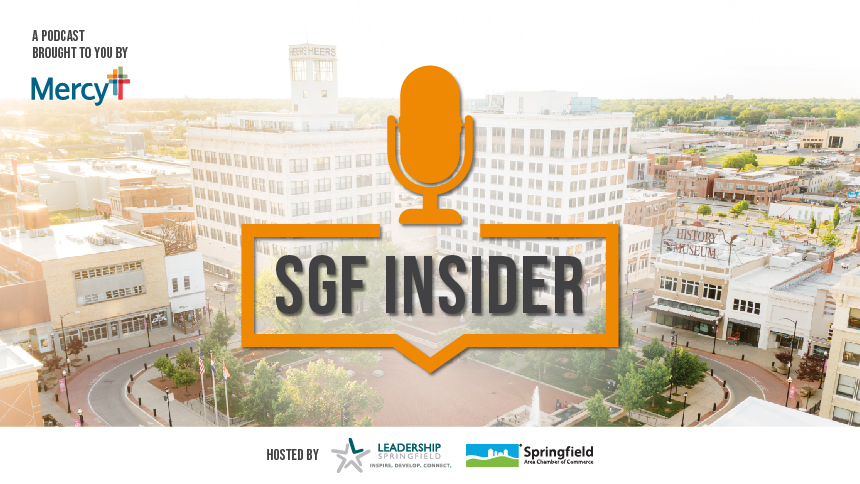 SGF Insider is a cooperative project between the Springfield Area Chamber of Commerce and Leadership Springfield. We hope it will give you a look at the people and programs that help make the Springfield, Missouri community a great place to live, work and play.
We'll publish two episodes a month:
One is "SGF Business Insider," featuring Chamber interviews with business and community leaders about the programs and initiatives that help our economy and community grow. It's a look at how things happen in our area, from new economic development projects to workforce development, efforts to encourage diversity, development of future leaders and more.
The other is "Plugged In," where Leadership Springfield looks at how people and places are connected to community. It's an insider's look at how community leaders of every age and stage make a local impact by diving deep into community red flags and blue ribbons and putting their leadership talents and strengths into action. You'll hear stories of people stepping up and plugging in to make a difference.
We hope you're as excited as we are about learning more from these stories over the coming months. You can listen to episodes directly from this page, but be sure to subscribe to SGF Insider wherever you get your podcasts by clicking on one of the buttons below!
Thank you to Mercy for sponsoring "Plugged In." And a special thank you to Shaun Munday for composing our opening and closing theme music!
January 2023: How are area manufacturers successfully managing industry changes?
In the January edition of SGF Business Insider, the Chamber's Digital Communications Manager, Noah Hester, shares audio from a panel interview with local manufacturing leaders featured at our recent Manufacturing Outlook. This event is an opportunity to hear how manufacturers are pivoting to adapt to a new normal in their industry - from managing supply chain disruptions and workforce shortages to incorporating new technologies and advanced automation into production.
The panel was moderated by Christina Angle, chief financial officer for Erlen Group, and featured four local business leaders: Kevin Ausburn, CEO and chairman of SMC Packaging Group; Reginald Davis, plant manager of The French's Food Company, and Nikki Holden, president of Custom Metalcraft, Inc.