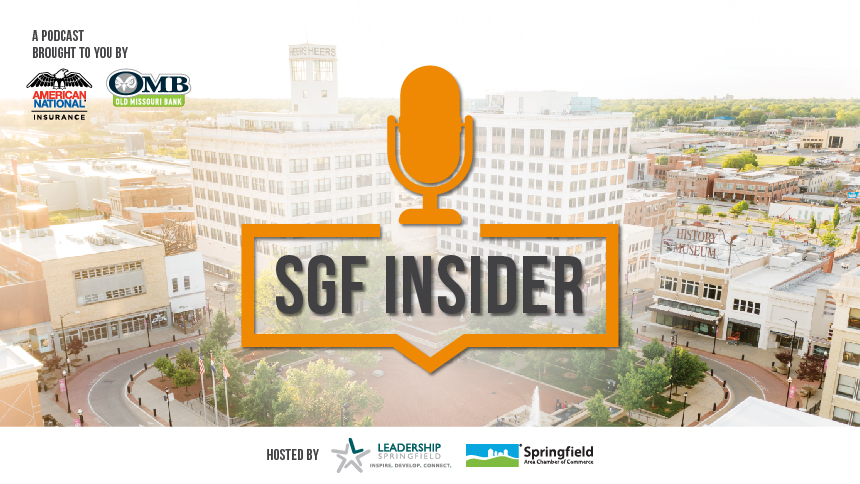 SGF Insider is a cooperative project between the Springfield Area Chamber of Commerce and Leadership Springfield. We hope it will give you a look at the people and programs that help make the Springfield, Missouri community a great place to live, work and play.
We'll publish two episodes a month:
One is "SGF Business Insider," featuring Chamber interviews with business and community leaders about the programs and initiatives that help our economy and community grow. It's a look at how things happen in our area, from new economic development projects to workforce development, efforts to encourage diversity, development of future leaders and more.
The other is "Plugged In," where Leadership Springfield looks at how people and places are connected to community. It's an insider's look at how community leaders of every age and stage make a local impact by diving deep into community red flags and blue ribbons and putting their leadership talents and strengths into action. You'll hear stories of people stepping up and plugging in to make a difference.
We hope you're as excited as we are about learning more from these stories over the coming months. You can listen to episodes directly from this page, but be sure to subscribe to SGF Insider wherever you get your podcasts by clicking on one of the buttons below!
Thank you to our sponsors: Old Missouri Bank, for sponsoring "SGF Business Insider," and American National Insurance Company, for sponsoring "Plugged In." And a special thank you to Shaun Munday for composing our opening and closing theme music!
May 2022: How Do We Recover Financially from the Pandemic?
In this episode, Chamber President Matt Morrow talks with Greene County Commissioner John Russell and ARPA Grant & Equity Specialist Dr. Lyle Foster. They talk about how funding from the American Rescue Plan (ARPA) is being directed to small businesses and nonprofits in our area, how the process is going so far, and what organizations can do to get involved.
---
April 2022: How Do You Find Hidden Workers?
In this episode, Chamber President Matt Morrow talks with Joseph Fuller. Fuller is a professor with the Harvard Business School and a visiting fellow at the American Enterprise Institute, and they talked about addressing workforce issues. Specifically, they discussed research Fuller and his colleagues have conducted into the concept of "hidden workers," and how businesses can connect with them to meet ongoing workforce shortages.
Visit the Harvard Business School website for more about the "Managing the Future of Work" research project.
---
March 2022: What Inspires Professional Women?
In this month's episode, Chamber President Matt Morrow sits down with two women blazing a trail for others in the Springfield community:
Crista Hogan, president of the Springfield Metropolitan Bar Association
Rachel Anderson, director of the efactory at Missouri State University
The two will be recognized on March 10 as the recipients of the 2022 ATHENA Award and the 2022 Virginia Fry Rising Star Award, respectively. They talk about their journeys, their inspirations, and the importance of supporting others in their own professional growth.
---
February 2022: How Do We Remove Professional Barriers for Women?
This month, Chamber President Matt Morrow talks with Wendy Doyle.
Wendy is the president and CEO of United Women's Empowerment (United WE), a non-profit organization based out of Kansas City that tackles barriers to women's economic growth. They work with decision makers and community leaders, field research on women's economic development, and contribute to numerous policy reforms – including equal pay efforts, increased paid family leave, work to remove barriers to women's professional licensing and regulations on sexual harassment.
---
January 2022: How Do Volunteer Leaders Prepare for 2022?
This month, Chamber President Matt Morrow talked to two people very important to both the Chamber and the entire Springfield community. They're the Chamber board chairs for 2021 and 2022, respectively: Logan Aguirre of the 417 group of magazines and John Oke-Thomas of Oke-Thomas + Associates.