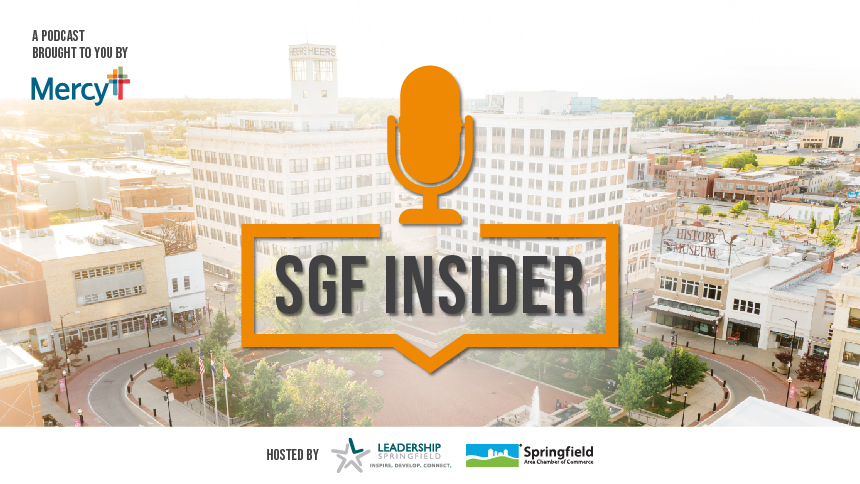 SGF Insider is a cooperative project between the Springfield Area Chamber of Commerce and Leadership Springfield. We hope it will give you a look at the people and programs that help make the Springfield, Missouri community a great place to live, work and play.
We'll publish two episodes a month:
One is "SGF Business Insider," featuring Chamber interviews with business and community leaders about the programs and initiatives that help our economy and community grow. It's a look at how things happen in our area, from new economic development projects to workforce development, efforts to encourage diversity, development of future leaders and more.
The other is "Plugged In," where Leadership Springfield looks at how people and places are connected to community. It's an insider's look at how community leaders of every age and stage make a local impact by diving deep into community red flags and blue ribbons and putting their leadership talents and strengths into action. You'll hear stories of people stepping up and plugging in to make a difference.
We hope you're as excited as we are about learning more from these stories over the coming months. You can listen to episodes directly from this page, but be sure to subscribe to SGF Insider wherever you get your podcasts by clicking on one of the buttons below!
Thank you to Mercy for sponsoring "Plugged In." And a special thank you to Shaun Munday for composing our opening and closing theme music!
August 2023: Executive Insight with Dean Thompson and Tiffany Batdorf
In the August edition of SGF Business Insider, Chamber President, Matt Morrow, sits down with the new Executive Director of Regionalism and Economic Development Dean Thompson, and our new Vice President of Communications, Tiffany Batdorf.
Thompson and Batdorf discuss economic development, regionalism, and communicating the Chamber's message to the community.
May 2023: How does tourism impact our community?
In the May edition of SGF Business Insider, Chamber President, Matt Morrow, sits down with the new President/CEO of the Springfield Convention & Visitors Bureau, Mark Hecquet. For the past 16 years, Hecquet led the Butler County Visitors Bureau in Ohio where he oversaw community engagement initiatives and several development projects, including the $165 million sports facility, Spooky Nook.
Hecquet and Morrow discuss sports tourism, tourism in Greene County, and the impact tourism has on the economy.
April 2023: How do some of the area's top small businesses find success in Springfield's regional economy?
In the April edition of SGF Business Insider, the Chamber's Digital Communications Manager, Noah Hester, shares audio from a Q and A session with the finalists for the 2023 W. Curtis Strube Small Business Award at our recent Good Morning, Springfield. These companies exemplify the hard work, innovation and resilience that the Springfield region's small businesses are so well known for.
The Q and A session was moderated by Matt Morrow, Chamber president, and featured representatives of the finalists: Ivan Eftink, owner and company founder of Bug Zero; Jonathan Garard, owner of Grooms Office Environments, Nancy Bogart, CEO of Jordan Essentials, Keri Sutton, nurse practitioner and owner/founder of Kare Health & Wellness, and Chris Jarratt, chief creative officer & co-founder of Revel Advertising.
March 2023: How do Effective Community Leaders Inspire Others to make an Impact?
In this month's episode, Chamber President, Matt Morrow, sits down with the 2023 ATHENA recipient Stephanie Stenger and Virginia Fry Rising Star recipient Heather Hardinger. The ATHENA Award is given to someone who has spent their career empowering women to achieve greatness and improving the quality of life for others in the community. The Virginia Fry Rising Star Award is given to a young professional woman who is already making a difference in the community for herself and other women.
Stenger and Hardinger discuss their personal journeys, the importance of support networks, the people who have inspired them, and how they work to inspire others.
February 2023: How does the 2023 legislative session impact the business community?
In the February edition of SGF Business Insider, Chamber President, Matt Morrow, sits down with Senator Lincoln Hough and Representative Alex Riley. Lincoln Hough represents District 30 in the Missouri Senate, and Alex Riley represents District 134 in the Missouri House of Representatives.
Hough and Riley discuss what's on the horizon at the start of the 2023 state legislative session - and in particular, those measures that impact the business community.
January 2023: How are area manufacturers successfully managing industry changes?
In the January edition of SGF Business Insider, the Chamber's Digital Communications Manager, Noah Hester, shares audio from a panel interview with local manufacturing leaders featured at our recent Manufacturing Outlook. This event is an opportunity to hear how manufacturers are pivoting to adapt to a new normal in their industry - from managing supply chain disruptions and workforce shortages to incorporating new technologies and advanced automation into production.
The panel was moderated by Christina Angle, chief financial officer for Erlen Group, and featured four local business leaders: Kevin Ausburn, CEO and chairman of SMC Packaging Group; Reginald Davis, plant manager of The French's Food Company, and Nikki Holden, president of Custom Metalcraft, Inc.