The Springfield Area Chamber of Commerce would not be able to function without support from all of its 1,500+ member organizations. It is because of your commitment to us that we can continue our work to increase opportunities for businesses of every size to succeed – and to grow jobs, our workforce and investment in the region.
A handful of organizations have gone above and beyond in their support of our mission and our initiatives, and we recognize them here as part of our Legacy of Leadership. A special thank you to these organizations for their dedication to the Chamber!
Learn more about one of our Chairman's Circle companies!
Associated Electric Cooperative has grown into a powerhouse for its member-owner systems since its formation in 1961. Today, Associated Electric is one of the lowest-cost generation and transmission cooperatives in the country with a diverse portfolio of generating resources, integrated transmission system and one of the highest bond ratings among G&Ts in the country.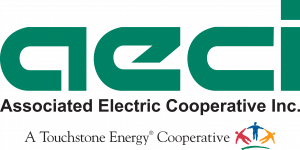 The wholesale power supply cooperative is owned by the six regional generation and transmission cooperatives that formed it, and those six G&Ts send power from Associated to 51 local electric cooperatives in Missouri, southeast Iowa and northeast Oklahoma that serve about two million member-consumers behind about 935,000 meters.
Associated continues to meet industry challenges, members' changing needs, its environmental responsibilities and more as it continues to grow under the leadership of its member-directed board and management. That leadership has never wavered in its focus on the reason Associated was formed: to provide an economical and reliable power supply and support services to members.
That mission dates to the grassroots formation of rural electric cooperatives in this country.
Once upon a time, electric service was a luxury enjoyed only in cities, where the concentration of people was high enough to make it economical. Meanwhile, in sparsely populated rural areas where electrification wasn't profitable, people were left in the dark -- and left behind.
Finally, the federal government realized that if rural America were ever to be electrified, the country would have to lend a helping hand. So, in 1935, President Franklin Delano Roosevelt signed an executive order creating the Rural Electrification Administration (REA). A year later Congress gave the agency the money and power to promote rural electrification by providing low-cost loans to build transmission and generation facilities.
Rural Americans took it from there, paying their $5 membership fee and rapidly forming rural electric cooperatives to take advantage of the favorable financing. Farm by farm, village by village, the lights went on across rural Missouri and rural America. And as electrical needs grew, the REA continued to provide low-cost financing, which cooperatives have faithfully paid back.
Eventually, Associated added generation facilities, financed with help from the REA, to meet rural America's, and now suburban America's needs. Its first-generation facility was built in 1966 and more followed. Today, Associated has diverse resources that include hydropower, coal, natural gas and wind energy, as well an energy efficiency program for the member at the end of the line.
The electrification of rural America often is described as the single most dramatic event to touch the daily lives of this country's farming families. It helped make this nation's agriculture industry the most productive in the world and enabled the rural economy to grow in even more unexpected ways.
Today, an affordable, reliable power supply is what helps Associated's member systems help their members power their homes, schools, farms and businesses and grow their communities.
Working with Associated Electric in that goal are the Association of Missouri Electric Cooperatives, the Iowa Association of Electric Cooperatives and the Oklahoma Association of Electric Cooperatives, which assist rural electric cooperatives and promote growth and development of rural America.
As Associated Electric celebrates more than 60 years of success, it looks forward as a well-positioned generation and transmission cooperative featuring diverse generation capacity, a resilient transmission network, financial strength and the support of a cohesive three-tiered system. Learn more at www.aeci.org and about electric cooperatives at www.electric.coop.