COVID-19 Aid for Businesses & Individuals
Updated Wednesday, September 9, 10:30 a.m.
The Springfield Area Chamber of Commerce is committed to providing a safe working environment for employees and members, and to minimizing the potential economic and business impact of COVID-19 (the "Novel Coronavirus") for our Chamber members.
To that end, we want to hear about how your organization is being affected by this situation, so that we can connect you with resources that can offer you assistance and share your concerns with legislators who might be able to help.
As your business continues to feel the effects of the ongoing coronavirus crisis, there are resources available to help you get through the worst of the situation and mitigate the potential financial impact.
---
Show Me Strong Personal Protective Equipment Retooling Program
The state has announced the Show Me Strong Personal Protective Equipment (PPE) Retooling Program. This $20 million initiative provides grant funding to manufacturers, nonprofit organizations, and other entities to reimburse certain costs for retooling existing facilities by purchasing necessary equipment and services to manufacture critically needed PPE for use in Missouri. This DED webpage has more information on eligibility and timeline.
---
Additional Business Assistance
Numerous state and national organizations are making information and assistance available for businesses of all sizes in all sectors. We are consistently working to collect as much valuable information as possible in one central location. Check back to this page frequently for more.
Resources for Individuals
As employees and self-employed individuals feel the impact of the ongoing crisis, there is information and resources available to help you as well. The Chamber is working hard to gather this information as it becomes available.
CFO COVID-19 Response & Recovery Fund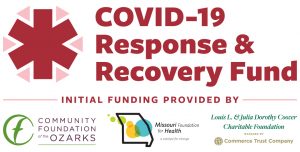 The Community Foundation of the Ozarks is taking applications for grants to nonprofits affected by the coronavirus through its COVID-19 Response and Recovery Fund Grant Program. As of April 23, CFO had awarded seven grants through the program, as well as its first Pitt Technology Group Access and Assistance grant, for pandemic-related needs. Click the button below to visit the CFO website and learn more.
Federal Reserve's Main Street Lending Program