Inaugural Non-Profit Outlook highlights benefits of non-profit and business partnerships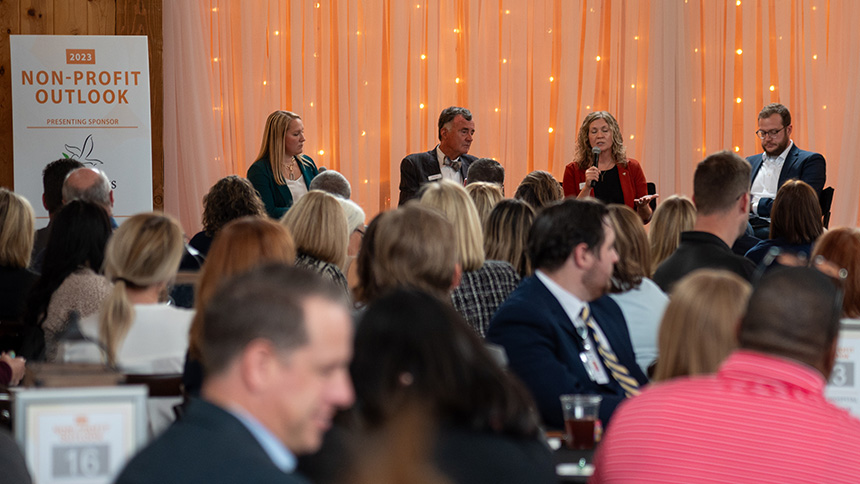 Key Takeaways:
Chamber members attended the inaugural Non-Profit Outlook on October 24 to celebrate the organizations and partnerships that help attract and retain talent and support the quality of life in Springfield community.
Attendees heard about the importance of partnerships and innovation from Dr. Spencer Harris, president and co-owner of Mostly Serious and co-founder of Habitat Communication & Culture; Krystal Simon, CEO of Care to Learn and the 2023 chair of the Chamber's Non-Profit CEO Roundtable; Laura Farmer, executive director of Court Appointed Special Advocates (CASA) of Southwest Missouri; Brian Fogle, president & CEO of Community Foundation of the Ozarks; and Jessieca Hollister-Graham, director of human resources for Digital Monitoring Products.
Panelists highlighted the importance of thinking creatively, meeting organizations where they are, and leaning into a mission to engage employees.
Why it Matters to Our Members:
In 2021, the Chamber commissioned a membership survey in partnership with Mostly Serious. This survey asked members what they wanted out of their membership and why they needed to be better served by the Chamber; one of the top items shared was the need for more programming and services for non-profits in the region.
Learn More:
Although there is a strong spirit of collaboration within the Springfield region, the Chamber's 2023 Non-Profit Outlook brought together indsutry experts and community members to discuss how partnerships between the non-profit sector and business community can be beneficial for talent attraction and retention.
A key point of discussion focused on how the private and non-profit sectors can learn from each other and collaborate, as they benefit from each other's tools of success.  
"We need to think about our non-profits and businesses the same," Fogle stated. "For example, there is no need to remove your private sector hat if you sit on a non-profit board, as those skills are just as applicable in the board room."  
Trust is key for Brian Fogle, who discussed the idea of trust-based giving. This approach focuses on donating to a non-profit with the idea that they know best how to utilize the funding to achieve their mission and see a return on investment.  
"Sometimes grant giving can be seen as a power issue between the non-profit and private donors," Fogle explained. "So, while we (non-profits) can better highlight our successes, donors must trust the non-profits to do the work and not focus heavily on operations versus mission funding, as they are directly linked." 
Trust is also built out of building relationships and sharing the narrative about what a non-profit is accomplishing. Farmer leans into this approach through her work. 
"It is so important to tell compelling stories about what you do, and you can do this through the relating private sector concerns to your non-profit's mission," Farmer said. "While some people are losing faith in institutions, telling impact stories is number one in building trust." 
The ability to build relationships between non-profits and private businesses doesn't just impact the non-profit but plays a key role in supporting private sector employees. Hollister-Graham offered a unique perspective on how DMP Cares, a significant employee-driven donation goal, affected their employees and the attention it has brought to matters that they care about.   
"We realized that we were seeing higher turnover rates in the workforce," Hollister-Graham noted. "But while there is always a job that will pay more, we thought we could compete by focusing on our mission statement and focusing on a cause."  
Their goal to give away $100 million in time and money by 2025 was exceeded far quicker than previously anticipated, supporting the idea that utilizing a traditionally non-profit mission-based approach can be incredibly impactful on the private side. 
"When we lean into mission, we see higher employee engagement and retainment" Hollister-Graham said.  
How innovation plays a role in both sectors was another key topic that panelists highlighted.   
"Non-profits have to be innovative often in the face of lacking resources," Fogle said. "And one additional way we can do this is ask business what they are looking for out of non-profit partnerships."  
Farmer and Hollister-Graham agreed, citing the importance of asking critical questions of both employees and partners to ultimately increase positive impacts for individuals, the organization and the community.  
Ultimately, the collaboration between the private and non-profit sectors in Springfield benefits the entire community. The Non-Profit Outlook event provided an opportunity for community members to engage meaningfully in collaborative conversations that will benefit Springfield for years to come.