Business leaders discuss legislative priorities with State Representative Alex Riley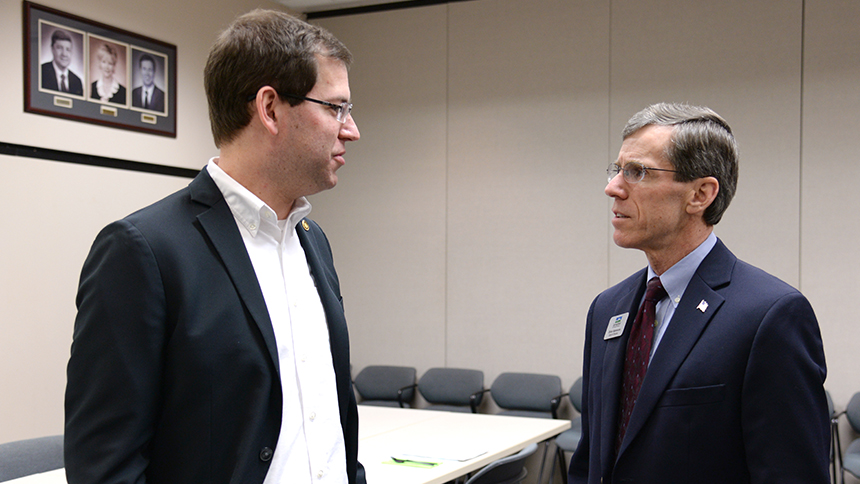 Chamber members met with State Representative Alex Riley on Friday, September 15, for a roundtable discussion on key policy priorities, regional business issues, and legislation that Representative Riley intends to focus on during the 2024 Regular Legislative Session. During this event, Riley also discussed his efforts running for the internal leadership position of Majority Floor Leader in the House, a position that a Representative from Springfield has not held in decades.
Riley was elected to his first two-year term in November 2020. Outside of his legislative duties, he is an attorney at Healy Law Offices, LLC, and is affiliated with several professional organizations, including the Springfield Metropolitan Bar Association and the Network for Springfield's Young Professionals. Rep. Riley is also a proud parent to three young children with his wife, Ellen.
Riley has consistently demonstrated his commitment to the business community, both before and during his time in office. He has focused on improving the state's business climate through several avenues during his time in Jefferson City, including reducing regulatory burdens, improving the legal climate, and enacting robust economic policy.
Moving into the 2024 legislative session, these priorities remain consistent. He highlighted the economic growth in neighboring states such as Oklahoma, Iowa, and Arkansas and expressed the belief that Missouri could achieve similar success with robust economic policies. This includes reducing regulatory burdens on businesses, including his sponsorship of a bill known as the "Regulatory Sandbox Act," which aims to increase entrepreneurial innovation opportunities.
Riley also acknowledged that the legal climate in Missouri is perceived as anti-business, which is why he remains dedicated to improving it, and is specifically focused on statute of limitations and joint liability.
Several business members in attendance raised concerns around the long-term ramifications of tax cuts on business growth. Riley shared that he understands Missouri has a complicated tax system, but is ultimately aiming for a tax policy that encourages individuals to better themselves and does not discourage business growth.
He also highlighted his optimism around the budget and the state's ability to continue funding key initiatives and programs while understanding the significant federal funding streams will likely dwindle in the new fiscal year.
The 2024 Regular Legislative Session will begin in early January and end in mid-May. Chamber members can receive curated state policy updates through the Chamber's Advocacy in Action e-Newsletter. Please reach out to publicaffairs@springfielchamber.com if you would like to be added to this email list.