Economists unveil valuable local and national economic insights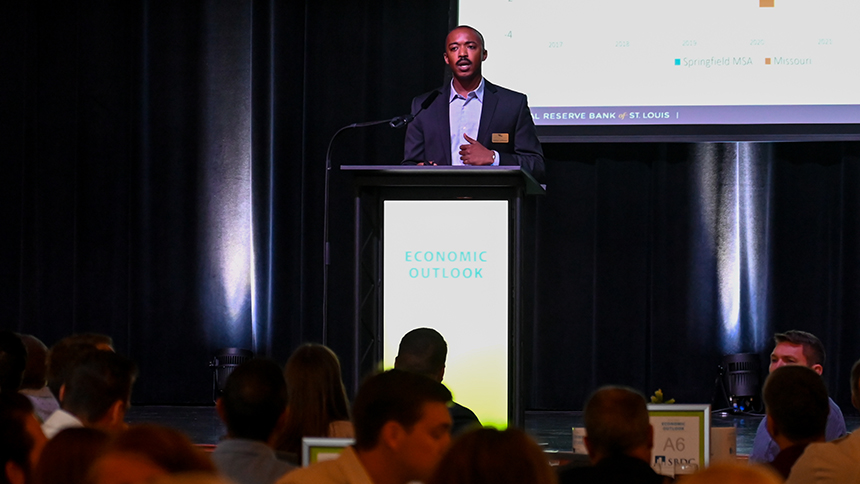 The Chamber's economic development arm, the Springfield Business Development Corporation (SBDC), hosted its 19 annual Economic Outlook event on August 16, at the Oasis Hotel and Convention Center. With a strong attendance of more than 350 participants, the 2023 event proved to be a pivotal platform for gaining insights into the economic trajectory of the Springfield area.
Chamber President Matt Morrow set the tone for the event, emphasizing its significance in equipping the community with the knowledge required for informed decision-making in an ever-evolving economic landscape. The introduction of Dean Thompson, the newly appointed Executive Director of Regionalism and Economic Development, added a dynamic element as he outlined goals for regionalism and economic growth in the years ahead. 
Keynote speakers Kathleen Navin and Nathan Jefferson, both esteemed representatives from the Federal Reserve Bank of St. Louis, shared their expertise with attendees*. Navin's insights centered on the national economy and the finance sector, revealing key takeaways for businesses looking towards the next few years.  
Navin highlighted the positive surprise of US economic growth in the first half of 2023, effectively easing concerns about a potential recession this year. She underscored the moderation in interest-sensitive sectors, such as housing, amidst the broader growth landscape. The resilience of the consumer sector, fueled by excess savings from the pandemic era and a robust labor market, emerged as a driving force in sustaining overall growth. Navin also addressed the dynamics of inflation, noting its moderation while remaining above the Federal Reserve's 2% target, and pointing to the importance of banking conditions as a crucial link between monetary policy and the real economy. 
Nathan Jefferson's presentation brought the focus closer to home, shedding light on Springfield's regional economic dynamics. Underscoring the region's commendable stability in growth and contraction, contrasting it with the more volatile trends seen in the broader US economy. Jefferson discussed the tightened labor and housing markets resulting from Springfield's robust growth, noting both the positive implications and challenges, including supply issues and price pressures. He highlighted the continued strong demand in the region, a factor that mitigated short-term recession risks. However, he also emphasized concerns over housing availability and credit accessibility moving into the year 2024. Jefferson addressed the vital role of population growth in catalyzing long-term economic expansion, projecting that the Springfield area would surpass regional population averages, boding well for the future. 
As the Chamber and SBDC look forward, the insights gained from the Economic Outlook will impact local strategies that empower businesses, attract investments, and create an environment conducive to economic success in the Springfield area.
* The views expressed by the speakers (8/16/23) do not reflect the official positions of the Federal Reserve Bank of St. Louis or the Federal Reserve System.  *