Governor Parson highlights infrastructure and workforce investments at 2023 State of the State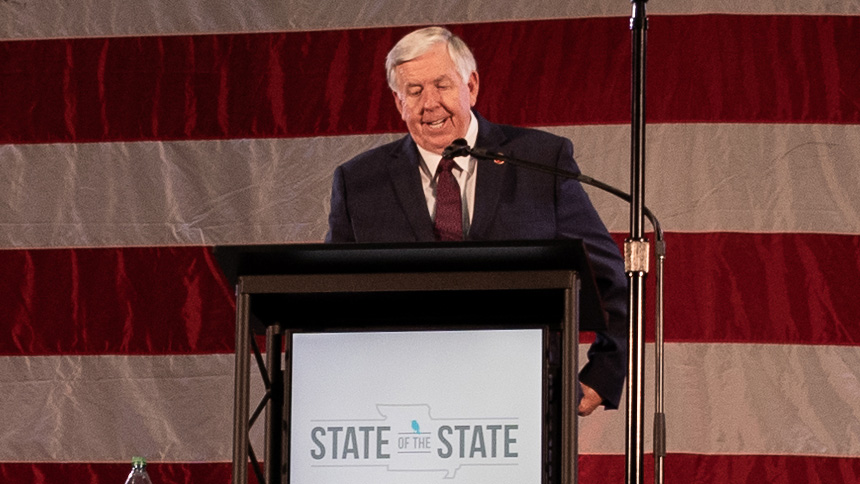 Speaking to a sold-out crowd at Missouri State University's Great Southern Bank Arena, Governor Mike Parson outlined significant investments and historic statewide successes in infrastructure, workforce development, education, and more at the Chamber's annual State of the State on July 27.  
The Governor shared numerous details about the state's strong economic growth over the past five years during his time in office, including Missouri's ranking as first in the country for on-the-job training programs.  
"The Missouri One Start program has already helped train over 130,000 workers for companies of all sizes since its reform in 2019," Governor Parson said.  
Several other rankings serve as indicators of Missouri's economic competitiveness across the nation, including ninth for customized workforce training programs.  
"This is thanks to the workforce programs we have championed," he explained. "The Fast Track Workforce Incentive Grant program has helped thousands of individuals gain a new skill in a high demand area and the MoExcels program has helped fund nearly seventy-five new employer-driven workforce training programs on college campuses." 
Reflecting on the 2023 legislative session, the Governor identified several, historic investments made in many of the Chamber's key legislative priorities.  
"We are using our revenue surplus to target areas that have long been neglected or overlooked – infrastructure and workforce development, he concluded. "That means investing in roads and bridges, broadband, childcare, mental health, improving state government, supporting law enforcement, and more." 
Under Governor Parson's leadership, with support from several regional lawmakers including Senate Appropriations Chair Lincoln Hough, the Fiscal year 2024 budget secured major funding for infrastructure improvements, including $250 million for broadband development across the state, $60 million for safer railroad crossings, and $380 million for road and bridge projects in the statewide improvement program.  
The Governor also referenced significant investments for I-70, which includes $2.8 billion to rebuild and expand the interstate to six lances across the state from St. Louis to Kansas City. He further explained that there are also significant investments for I-44, such as funding to widen the interstate from Glenstone to Route 66 within the Statewide Transportation Improvement Program (STIP), complete an environmental study for the entire corridor, and make critical interchange improvements and bridge replacements.  
"In total, over the next five years, the Springfield metro area is receiving nearly $500 million in funding for infrastructure projects," Governor Parson stated. "536 miles of road and nearly 60 bridges will be prepared and replaced." 
In addition to infrastructure investments, Governor Parson recognized the importance of education and workforce development programs across the state.  
"We have fully funded the K-12 foundation formula for the fifth year in a row," said the Governor. "In state funding alone, our administration has increased investment in K-12 education by nearly $700 million." 
He also highlighted several investments aimed at reducing workforce barriers, including access to affordable and quality childcare. 
"The future of our workforce and the success of our state begins with quality, early childhood programs," he said. "This year, we secured $78 million to increase childcare provider rates, allowing more families to afford care." This investment is in addition to $82 million allocated for the establishment of pre-K programs in public schools and private providers to ensure that families that qualify for free and reduced lunches can send their children to pre-K.  
Governor Parson recognized the importance of elected officials that advocate on behalf of Southwest Missouri to achieve priorities key to the region.  
"None of this would have been possible, if it hadn't been for your lawmakers and specifically one particular individual," he said. "I can't stress to you how important it is for you to have Senator Lincoln Hough in your corner." 
The 2023 legislative session was a successful one for the Chamber's business-driven priorities and the Springfield region. For a full recap of the session and details about legislative wins, click here.