Community leader driven by a passion for bettering Springfield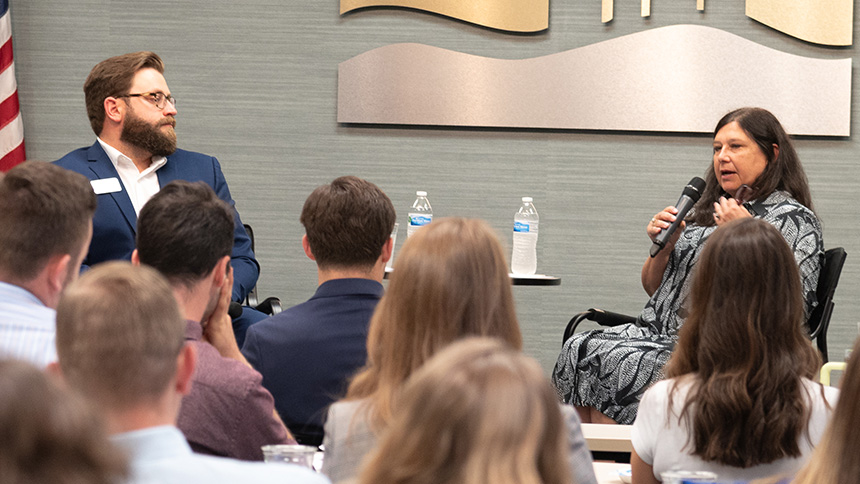 On July 25, The Network for Springfield's Young Professionals hosted the second event in its 2023 CEO series. YPs heard from Stephanie Stenger, president of Springfield Land, L.P.  
In an interview conducted by Network Chair Bryant Young, Stephanie talked about her professional journey to leading a family-owned real estate development company – a journey with the goal of "making Southwest Missouri a place where families and businesses love working and living." 
In describing the work of Springfield Land, Stephanie shared how her role focuses on community engagement from every aspect of a project. "I love talking to the community leaders and being involved in the planning of our city so that it's a better place to live," she explained. "To me, that's one of the upsides to the residential development business – being part of the growth of our city. " 
In addition to her involvement with the business community and volunteer service with the Junior League of Springfield and Isabel's House, Stephanie shared that The Moxie is her favorite thing about living in Springfield.  "Having The Moxie here literally changed the way that I felt about Springfield," she said. "Whatever your thing is, if you can find it here, it can be your lifeline to Springfield." 
When asked about the biggest lessons learned throughout her career journey, Stephanie spoke about the balancing of priorities. "Take your personal commitments and your professional commitments, and treat them equally," she explained. 
Lastly, Stephanie challenged young professionals to "Find your Moxie," she said. "Find your thing that really makes you want to live here and put everything you have into it."