Missouri Department of Corrections Director Updates on Reentry 2030 National Initiative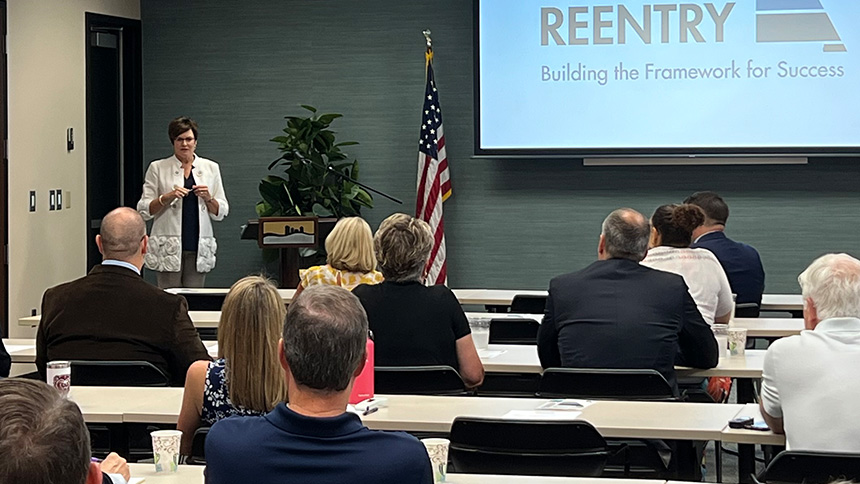 Missouri Department of Corrections Director Anne Precythe and Division of Rehabilitative Services Director Valarie Moseley visited the Chamber on June 29 to provide an update on the department's workforce development efforts, including the launch of Reentry 2030. This program is a, "national initiative that aims to dramatically improve reentry success for people exiting prison," Precythe explained.
"But we can't do it by ourselves," she said. "We need to work with our communities."
Moseley highlighted the three primary goals outlined in Reentry 2030, all of which are a, "call to action to improve the process and eliminate the barriers." By 2023, the Missouri Department of Corrections is committed to:
100% of incarcerated individuals who need career services will receive them;
85% of formerly incarcerated individuals will be employed within thirty days of release; and
80% of formerly incarcerated individuals will maintain employment for at least nine months after release.
To achieve these organizational commitments by 2030, Director Precythe emphasized the department's focus on expanded collaboration and partnership.
"We've been working on reentry for years, but we still haven't perfected it," she said. "Employer engagement is critical to meeting our goals."
Moseley further highlighted various workforce development, training and educational opportunities that are becoming increasingly available for incarcerated individuals in the state of Missouri, helping with the above goals.
"These are real jobs for today's community that pay a living wage," she explained.
Several business leaders in attendance thanked Director Precythe and Division of Rehabilitative Services Director Moseley for their efforts and asked for ways to be a resource in the continued discussions of workforce development throughout the state.
"Not every formerly incarcerated person is right for every job," Precythe said. "But there are a lot of available jobs these people are right for."
Moseley concluded the presentation by sharing a call to action for those in attendance.
"What we need to do is be able to continue this dialogue outside of the room," she stated, with an invitation for those in attendance to reach out and learn more about the expansion of workforce development programs happening through Reentry 2030.