Inspiring the next generation of leaders in the Springfield region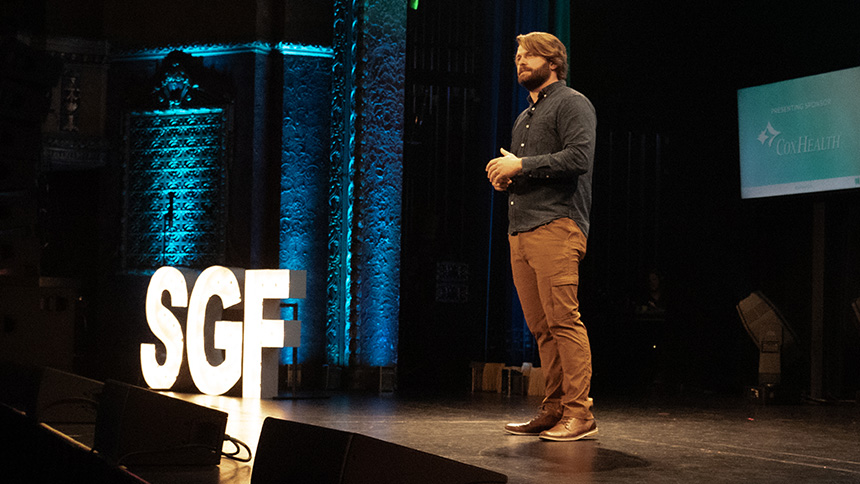 At the 2023 edition of SGForum, presented on June 23 by The Network for Springfield's Young Professionals, the focus was inspiring, empowering, and engaging young professionals through meaningful opportunities for professional development and community engagement. More than 330 YPs, the largest crowd to ever attend the event, gathered for the annual half-day summit at the Gillioz Theatre to hear inspirational stories and leadership advice from a range of presenters.
Dr. Spencer Harris, president and co-owner of Mostly Serious and co-founder of Habitat Communication & Culture, shared during his opening keynote that when young professionals seek opportunities to make a difference in their community, they must also be honest and gracious with themselves.
He told the story of how he found his way back to Springfield, searching for opportunities to lead and serve, while facing challenges in this journey. Dr. Harris shared valuable insights with attendees, such as "be kind to yourself," "be realistic with about your commitments" and "be vulnerable." But ultimately, he left attendees with this encouragement: "If we want to make a difference in our community, we have to change the way we talk to and about ourselves."
This mission led to a panel discussion about young professionals, representing a variety of industries and experiences, all striving to make a regional impact in their work. From the Convention and Visitors Bureau and the Springfield-Branson National Airport to 37 North Expeditions and CoxHealth, panelists from these organizations offered their advice on how to take your passions, incorporate them into your everyday work, and ultimately make a meaningful impact in our region. They encouraged attendees to dream big, not be dissuaded by naysayers, and proceed from a place of unwavering passion for the future of our region.
Dr. Grenita Lathan exemplifies unwavering passion through her role as superintendent for Springfield Public Schools. She shared her professional development journey and approach to building trust as a leader, which requires consistency, compassion, communication, and competency.
The day also included a panel discussion focused on local culture as a talent retention strategy. During this conversation, panelists shared about the variety of community assets, such as the Historic Gillioz Theatre, that make our region exciting for young professionals and ultimately aim to keep them here. Attendees also learned more about Celebrate Springfield, an annual celebration that aims to provide access to attractions, amenities, and resources in the Queen City, that rose out of the Chamber's 2021 Community Leadership Visit. As well, attendees learned about the robust non-profit community, providing opportunities for young professionals to get involved and have a voice in the conversations shaping our region.
Attendees heard insights from a panel of servant leaders who have dedicated their careers to the betterment of the Springfield region. The panelists included Joselyn Baldner, Central Bank of the Ozarks; Steve Edwards; former Springfield City Councilman Andy Lear, and Dr. Carol Taylor; each of whom shared their passion for community leadership and encouraged attendees to approach their careers with a servant mindset.
The day concluded with keynote speaker Kyle Scheele, who is the "patron saint of crazy ideas" and Springfield native who has pursued his passions across the country. Kyle spoke with attendees about "becoming an idea factory" and how far too often young professionals talk themselves out of a great idea, just because it seems too innovative or unattainable. He advised YPs to not be afraid of failure; in fact, he encouraged them to embrace opportunities to think outside the box, because that is when creativity has the power to make a meaningful impact within your career, organization, and community.