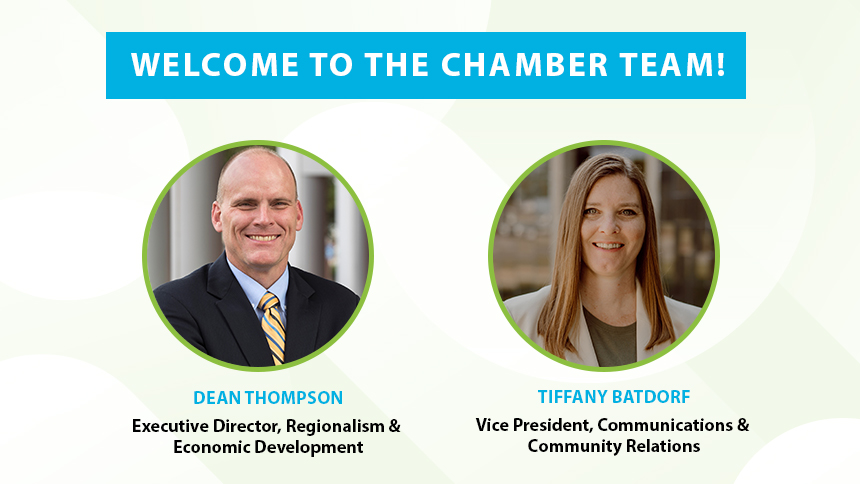 Two executives join the Chamber team and a third is named acting VP.
The Springfield Area Chamber of Commerce is pleased to announce the hiring of two key leadership positions and names acting Vice President of Public Affairs. Dean Thompson will take on the role of executive director of regionalism and economic development and Tiffany Batdorf will serve in the role of vice president of communications and community relations. Lauren Mustoe, previously manager of governmental relations, will serve as acting vice president of public affairs.
Working collaboratively with City Utilities of Springfield (CU), the  Chamber welcomes  Thompson onboard as an Executive in Residence with the Chamber, as CU's vice president and chief economic development officer.
In his role, Thompson will focus on researching and molding the best organizational model for regional excellence. He will work with staff to strengthen the Chamber's core economic development program of work which includes project management, lead development, business retention and expansion, and site development.
Thompson is a graduate of Missouri State University with a bachelor's degree in sociology and a Master's of master's degree in public administration. He is a graduate of the US Army War College with a master's degree in strategic studies. Thompson is also a Certified Economic Development Finance Professional (EDFP) and has served in various roles at CU since 2007, was the City of Republic city administrator for 12 years, has been serving in the US Army Reserve since 1985, and is currently the Commanding General of the 353d Civil Affairs Command.
Tiffany Batdorf, as the Vice President of communications and community relations will champion the Chamber brand and increase visibility for members. She will lead the organization's strategic communications plan, media relations and will serve as spokesperson.
Batdorf is a graduate of Southern Nazarene University with a master's degree in sports management and administration. She received her bachelor's degree from the University of Central Oklahoma in journalism/public relations. Batdorf, an Oklahoma native, previously served as the Chamber/CVB Director for the Mitchell Area Chamber of Commerce in Mitchell, S.D.
Lauren Mustoe will serve as the acting vice president of public affairs,  leading the Chamber's advocacy efforts. On Chamber staff since 2018, Mustoe has most recently been serving as manager of governmental affairs and will continue her focus on regional business community needs at the local, state and federal level through a member-driven and collaborative approach.
Mustoe is a Jefferson City native and graduate of Missouri Sate University with a master's degree in public administration and a bachelor's degree in public relations. Mustoe is an active volunteer with several community organizations, including the Community Blood Center of the Ozarks, Springfield Little Theatre, and Springfield Regional Arts Council Advocacy. She was also chosen as a Springfield Business Journal 40 Under 40 honoree 2023.
"We are extremely excited about our growing staff at the Chamber, which as been energized with fresh perspectives. Both Dean and Tiffany bring years of experience and knowledge from both inside and outside of the Springfield community that will help with future planning and leadership, while Lauren brings unique skills in embracing this acting role," said Matt Morrow, Chamber president. "All three roles will add to the great staff the Chamber has in place to serve our embers and the business community at large."