Non-Profit Chamber members hear update on the national non-profit sector, discuss local impact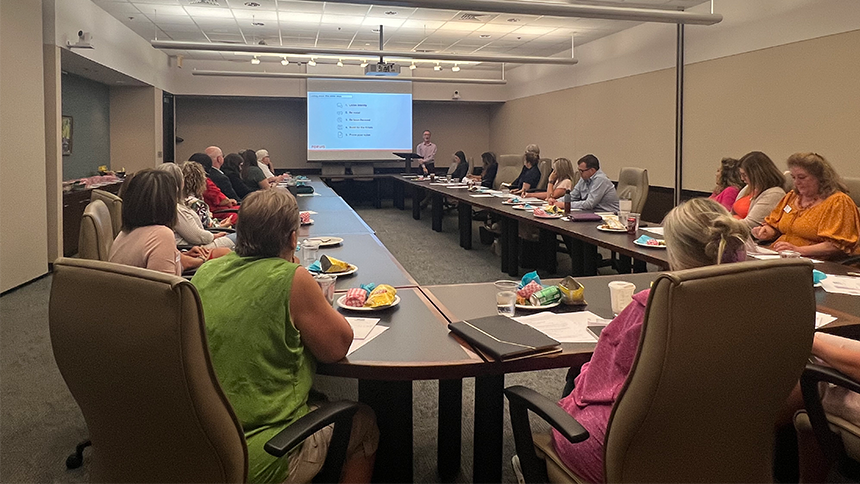 The Chamber's Non-Profit CEO Roundtable convened for their first event of 2023 on June 8 to hear updates from Dan Prater, senior managing consultant at FORVIS, on the state of the non-profit sector. Prater serves as the lead author on FORVIS' annual report, which for 2023, shares how non-profits are meeting urgent needs while adjusting to persisting global crises.
Prater is no stranger to the region's non-profit industry as he was the founder of the Center for Nonprofit Leadership at Drury University and co-created Drury's Master of Nonprofit and Civic Leadership graduate degree program. He also serves on the board of two local non-profits, Harmony House and Elevate Lines, and on the Ozarks Regional YMCA's governance committee.
Prater has also expanded his consultant work across the United States, helping with strategic planning, board governance, leadership transition, and organizational assessments.
His expertise shows through his reporting of the findings of the 2023 report, which highlighted organizational financial standing, workforce challenges, increased operating costs, and additional impacts on non-profits.
21.6 percent of non-profit respondents on the study were located in the Midwest and 24.4 percent of respondents were from the human services subcategory. The nationwide study indicated that there was a general positive feeling regarding organizational financial standing, however, during the June Non-Profit Roundtable, Springfield attendees felt their income had significantly declined over the last year.
There was significant discussion among roundtable members regarding how their organizations have reacted to inflation, rising wages, changes in charitable giving and fundraising strategies, and additional needs for employees stemming from the pandemic, which all impact their financial standing. They also indicated the need to combat misgivings that nonprofits have many avenues for revenue, as fundraising strategies and historical giving streams look different than they used to, especially between generations.
Prater also noted that operational costs are rising, specifically for salaries and benefits. Roundtable members agreed and shared their own experiences with workforce shortages, turnover, and recruitment, which have been negatively impacted by ongoing staffing shortages.
The nationwide report showed that over half of respondents noted staffing shortages have hampered their ability to deliver programs and services, as well as recruit and retain employees. Of those who left the public and social sector workforce during/following the pandemic, 72 percent did not return to the same industry.
To try and address this workforce challenge, many in the room discussed the need to provide additional innovative benefits that encourage greater flexibility in the workplace, which is a trend Prater believes we will continue to see.
Moving forward, Prater encouraged non-profits to listen intently, be vocal, be laser-focused, build for the future, and prove their value. Those in the room further highlighted the value non-profits bring to the community and hope to further address perceptions that nonprofits should do more with less.
To learn more from the 2023 State of the Nonprofit Sector findings, find the full report here.