How competition and collaboration drive improvement in our area health care systems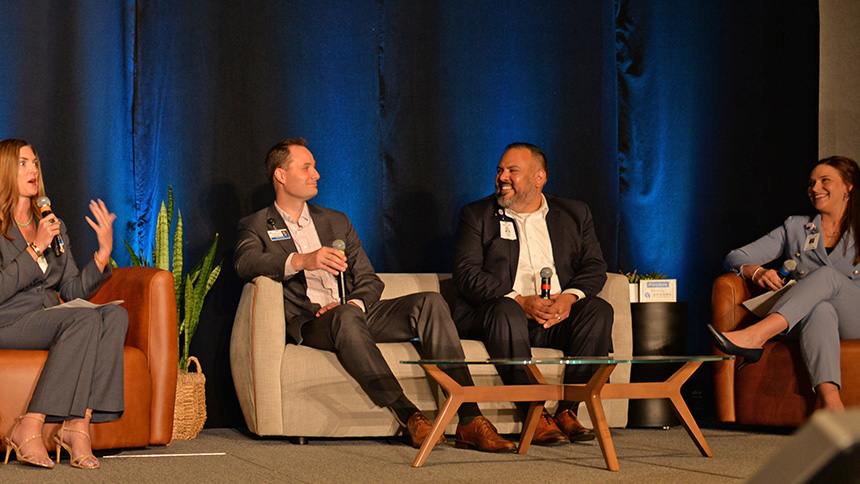 At the recent Health Care Outlook, a panel of area leaders from Springfield's two largest employers, CoxHealth and Mercy Hospital Springfield Communities, shared how competition and collaboration drive improvement in our area health care systems. Presented by the Springfield Business Development Corporation (SBDC), the Chamber's economic development arm, the May 17 event is part of an annual Outlook series designed to provide attendees with an inside look at the region's key economic drivers.
Christina Angle, SBDC board vice president, provided an update on the work of professional staff and volunteers behind the scenes to spur capital investment and job creation that leads to rising household income levels and a growing population.
The program featured peer health care leaders David Argueta, president of Mercy Hospitals Springfield, and Max Buetow, president and CEO of CoxHealth. The conversation was guided by Amanda Hedgepath, president of Springfield Hospitals at CoxHealth, and Marie Moore, chief nursing officer for Mercy Springfield Communities.
The wide-ranging conversation included how competition and collaboration can co-exist between the two systems and actually benefit the quality of care accessible to residents in the Springfield region. Buetow specifically mentioned how this dynamic allows CoxHealth and Mercy to continually work to advance the care they provide by focusing in on who they serve.
"We want to use competition as a way to serve the community," said Buetow. "You're going to see us duke it out in many ways in this community, but with that intentionality of preserving a very strong relationship where we have these opportunities to co-exist, collaborate, and partner even in the future."
Argueta highlighted how important it was to develop a personal relationship with Buetow and how intentional communication between CoxHealth and Mercy helps both systems continually adapt to the changing needs of the region and workforce, and most importantly provide the highest quality of care.
Both Argueta and Buetow spoke about the need to promote the strengths of the Springfield region to attract and retain talent and ensure they have robust career development pipelines within their organizations. In terms of changes on the horizon, Buetow spoke about the need for expanding regional services such as pediatric surgery and mental health services and the need for increased collaboration among the health care systems to fill that gap. When asked what advice he would offer to help impact an individual's own health care, Argueta encouraged attendees to speak up and challenge the status quo, and to advocate for a stronger system.
"At the end of the day, our community, the people that we serve win when we are striving to be the best and continually improve," said Argueta.