Chamber hires for three positions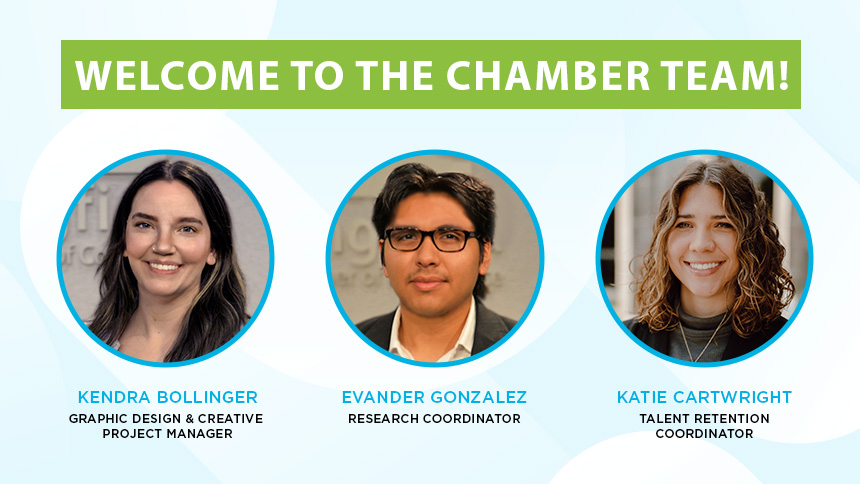 The Springfield Area Chamber of Commerce is pleased to announce three recent hires to help better serve our members and the business community at large - Kendra Bollinger is the graphic design and creative project manager, Katie Cartwright is the talent retention coordinator and Evander Gonzalez is the research coordinator.
As graphic design and creative project manager, Bollinger will focus on building relationships with members of the Chamber as well as continue to grow the overall Chamber brand. She will work with Chamber staff and volunteers to develop assets that help market events, grow existing businesses and attract new business and talent to our community.
Bollinger is a graduate of Missouri State University with a bachelor's degree in graphic design and illustration with minors in marketing and art history. Bollinger previously was a graphic design manager at FORVIS CPAs and Advisors for almost 6 years.
As talent retention coordinator, Cartwright will act as staff liaison and coordinator for The Network for Young Professionals, the premier organization for Springfield professionals under 40 who are interested in connecting with each other, advancing in their careers, filling leadership roles in the community, and building relationships with other business leaders. Cartwright will also help lead the Chamber's outreach to area universities, encouraging them to consider remaining in the Springfield region after graduation. That outreach includes sharing the new CampuSGF guide, and showing college students and young professionals all the amenities our region has to offer.
Cartwright has a bachelor's degree from Missouri State University majoring in Psychology with a personalized minor in guidance and counseling. Cartwright is currently working on her master's degree in School Counseling/Mental health counseling. For the past six years, she has worked for the Boys & Girls Clubs of Springfield, most recently as the Program Director at the O'Reilly Unit inside Williams Elementary.
In a newly created research coordinator role, Gonzalez will be responsible for gathering, analyzing, and disseminating data to support the Chamber's efforts to attract and grow business investment and workforce. This economic development team role includes providing strategic data such as industrial and commercial real estate market reports, population and workforce trends, and wage information for use by the Chamber and its partners in demographic profiles and on SpringfieldRegion.com and LiveInSpringfieldMO.com.
Originally from the Branson area, Gonzalez graduated from the University of Missouri with a degree in economics. Prior to joining the Chamber, Gonzalez and Dr. Curs, Associate Professor in the Department of Educational Leadership and Policy Analysis at the University of Missouri, investigated the effects of Non-Resident Enrollment on Academic Profiles at Public 4-Year Institutions.
"All three of our recent hires bring valuable skills and experience to the Chamber team," said Chamber President Matt Morrow. "We're always working to grow our ranks and continue providing the highest level of service to our members; bringing these professionals on board is a significant step toward reaching that continual goal."