Is your business prepared for a recession?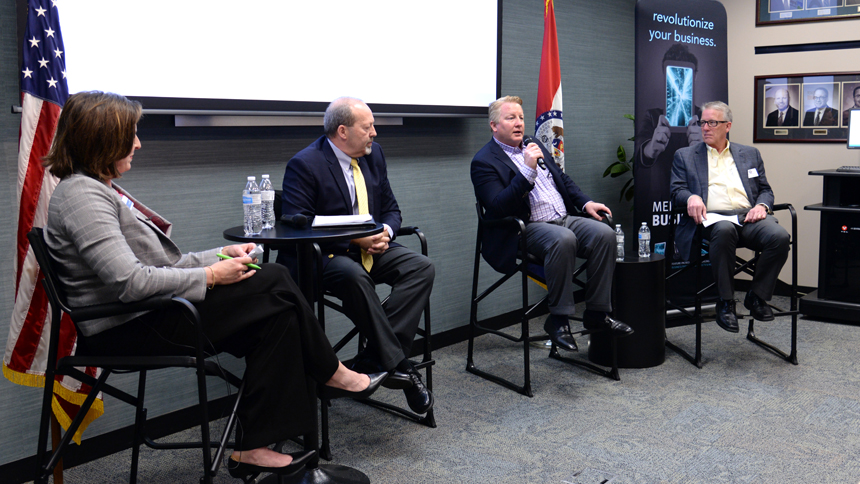 The Chamber recently hosted its first edition of the 2023 60 Minutes to Success series and the topic was centered around preparing businesses for a recession. The panel discussion was moderated by Paula Dougherty of Achieve Private Wealth - Ameriprise Financial. The panel included Dr. Jeffrey Zimmerman of Drury University, Jeff Childs of SVN/ Rankin Company, and Bob Helm of Elliot, Robinson & Company, LLC CPAs.
Dr. Jeffrey Zimmerman started the discussion by sharing what indicators precede a recession and his own perspective on the near future. Dr. Zimmerman stated that when the yield curve is inverted, that means short-term rates are higher than long-term rates. This is important to note because every recession since 1955 has been preceded by an inverted yield curve. The yield curve inverted twice last year, and economists are using this information to infer that a recession is coming within six to thirty months of the most recent inverted yield curve.  
"I would look for just myself, a recession probably more towards the fourth quarter of this year leading on into next year," said Dr. Zimmerman. "How deep will it be? It's anybody's guess." 
Having experienced a recession before, Jeff Childs highlighted four tips to help businesses put things into perspective.  
Get your mind right and be ready for it. Prepare yourself and your business for what could be coming and make sure that you are mentally prepared.

 

Put yourself in a position for opportunities. Connect with people that you can learn from and can help your business grow.

Look for opportunities to make the best of the situation.

No matter what the situation is, always give thanks. Take time to reflect and thank the people you work with.

 
Bob Helm highlighted best practices businesses should employ to navigate uncertain economic times. The first practice he recommended is keeping good, current financial information to make the right decisions. Second, businesses should have a three to six month cash reserve to cover their overhead costs. It takes years to build this cash reserve, not months, but it is essential. Third, businesses need to control spending. If times are getting hard, businesses must get their cost spending under control. Finally, relationships outside of your business are critical. In order of most importance, businesses need a strong relationship with their CPA, their banker, and their lawyer. 
Helm also shared some advice for businesses when it comes to paying taxes when cash is tight. If things are getting difficult, your profitability may not be what you expected, so talk with your accountant to modify your estimates. He also recommended that businesses should avoid financing with the Internal Revenue Service and try not to defer their estimated tax payments. 
When it comes to tangible tips to prepare for the future, Childs recommended finding people that are smarter than you and finding out what's working for them. Additionally, he urges everyone to show up to work every day, ready for opportunities. When opportunities are available, don't just think about them, you need to act on them.  
Helm echoed Childs and told audience members to invest time into their current network and continue to build their network with new connections.  
Dr. Zimmerman discussed how customers need to be top of mind. Businesses need to prepare for how fewer customers impact them and start working on customer retention. He also recommended avoiding financial entanglements, only borrowing what you need, and not watching the news to get the news. 
For more information on the economy and consumer spending, Dr. Zimmerman recommended visiting https://www.bea.gov/ and https://nrf.com/.